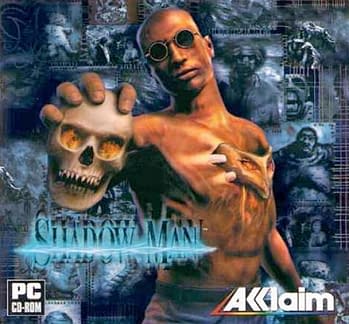 Fans of Valiant Comics and the 1999 Shadow Man video game are in luck. Gog.com is offering up the classic single-player game for download to your PC for only $5.99. The game was based on the Shadow Man comic from back in the Acclaim/Valiant days. In it you travel through out the Bayou hunting criminals, gathering voodoo articfacts and sending evil back to hell with guns or voodoo magic.
Here is the game overview: "He is coming, a possessed man is coming, a voodoo mask in his chest and lines of power in his back. Shadow Man is coming. Going after evil from Liveside to Deadside. To stop the Apocalypse. To save your soul.
Shadow Man is a nonlinear third-person action/adventure game inspired by the Valiant Comics title of the same name. The game encompasses two enormous and varied worlds. Travel through Liveside, the land of the living, as mortal Mike LeRoi, and explore Deadside, the place where lost souls spend an eternity in torment, as his alter ego, the voodoo warrior Shadow Man. Take a ride into the unexplored territories of the human psyche as you try to stop a marauding band of villains from unleashing unspeakable horrors upon the world as we know it."
There is even a trailer for the game:
[youtube]http://youtu.be/PIwZOPIGF-c[/youtube]
Enjoyed this article? Share it!