Vampire Bats, A Jealous Ex-Boyfriend, And Intense Action In Gotham Academy #8 Vampire bats and a jealous ex-boyfriend! This new issue of Gotham Academy is a page-turner! From DC Comics, written by Becky Cloonan and Brenden Fletcher, with art by Karl Kerschl, Gotham Academy #8 brings us to Olive's mothers funeral. As she tries to cope with her immense loss, Tristan steps in to comfort her, but Kyle isn't exactly okay with that. So, with some help from Maps, Kyle attempts to figure out what Tristan's story is. However, things don't go as smooth as he would hope.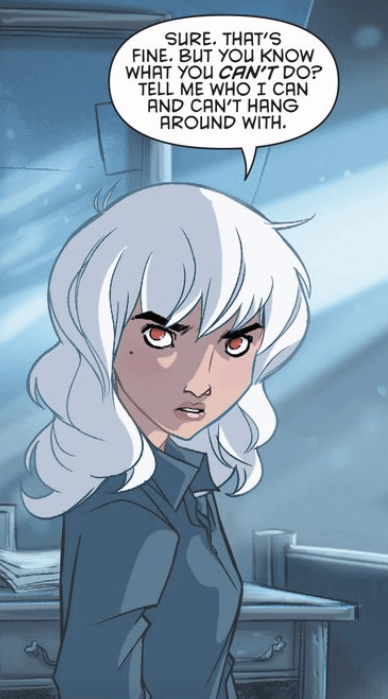 I want to talk a little bit about the character development that goes on in this issue. I've been a fan of Olive's young tormented soul since I read the first issue of Gotham Academy, and I have to say as time goes on I really enjoy the issues that bring us deeper into her world and inner thoughts. Despite all of the turmoil she's been through she still possesses such strong confidence, and has no problem standing up for herself and what she believes in. I think a lot of times it's easy to get caught up in the plot points of comics and forget about the characters inner feelings and growth. But the creative team that works on this book definitely pays attention to the balance of it all, and does it well. With that said, I think the plot is progressing well, and without revealing too much, we get a lot of intense action throughout the issue. I enjoyed seeing Maps and Kyle work together. Even though we know they're siblings, thus far there hasn't been too much interaction shown. The end of the issue literally sent chills up and down my spine. I applaud Fletcher and Cloonan for their excellent script writing skills, and their abilities to leave us hanging in such a bittersweet way. As always, Kerschl's gloomy Gotham art brings a smile to my face. The scene above in particular! Overall, I'm going to recommend that you don't miss out on this new issue. Be sure to pick up Gotham Academy #8 today.
Christine Marie is a Staff Writer at Bleeding Cool, and bibliomaniac with a love for all things creative. She hopes to one day be a Superhero/Disney Princess/Novelist. You can find her on Twitter and Instagram @AWritersWay or on her blog writerchristinemarie.wordpress.com.