Weird Mysteries #4, From The Collection of Nic Cage, On Auction Today
Weird Mysteries #4 features one of the coolest horror covers you will ever see. Featuring a skull with a knife through the forehead and poking through an eye and a bug with a human head, the insane art by Bernard Bally is striking. But, that is not the coolest part of this CGC 7.5 copy taking bids at Heritage Auctions today. No, the coolest part is that this particular copy comes from the collection of one Nicolas Cage. Currently sitting at $8250, the price certainly reflects that, and you can bet that the price on this one will keep heading up. Check out Cage's book down below.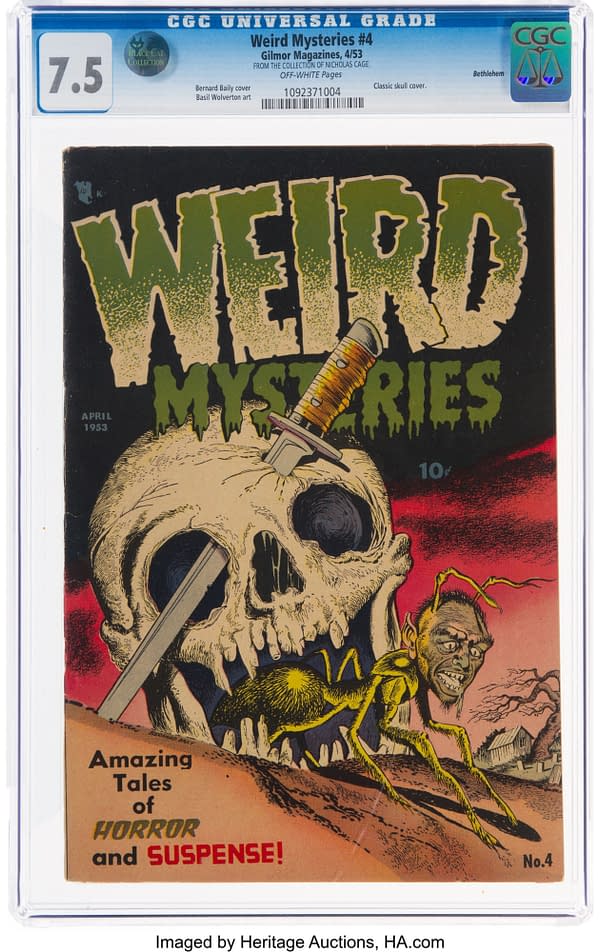 Owning Nic Cage's Copy Of Weird Mysteries #4 Would Be Pretty Cool
"Weird Mysteries #4 Bethlehem Pedigree (Gillmor, 1953) CGC VF- 7.5 Off-white pages. Bernard Baily's insanely bizarre and disturbing skull cover is the big draw here, and inside the issue, there's a memorable story drawn by Basil Wolverton, entitled "The Man Who Never Smiled." CGC notes that this pedigree copy came "From the Collection of Nicolas Cage." Overstreet 2021 VF 8.0 value = $4,738. CGC census 11/21: 2 in 7.5, none higher. From the Black Cat Collection.Pre-Code tales of horror from Stanley Morse Publications. A businessman tests a magician's abilities by handcuffing him to a coffin in a story by future Marvel artist Ross Andru. Witches seem to predict that a man will succeed in his revenge plan against his unfaithful wife. A wealthy man who never smiles confronts a greedy man in a cave in a story by comics legend Basil Wolverton. Devils Disciple!; The Twin Coffins!; Chain Reaction; Choker; The Black Board; The Witches Tale; The Man Who Never Smiled."
How cool would this Weird Mysteries be to own? Not only is it Nic Cage's book, but it is the highest graded copy on the CGC Census. Insanely cool stuff there. Go here to get more info, and place a bid. While there, check out all of the other horror books taking bids right now.

Affiliates of Bleeding Cool buy from and/or consign to Heritage Auctions.