When Kazuo Koike Took A Samurai Sword Through San Diego Airport – And How He'd Like To Work With Stan Lee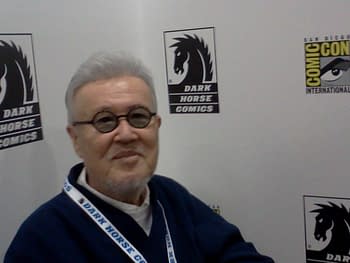 Seventy-nine year old Kazuo Koike, co-creator of Lone Wolf & Cub and Crying Freeman took to Reddit last night for a question and answer session about his work past, present and future,
During which he recounted a trip he took to San Diego Comic Con "while carrying a real Japanese sword with me. I was stopped at customs, but one of the employees there was a Lone Wolf and Cub fan, so they let me through normally."
That looks like it was in 2006, less than five years after 9/11… that's quite a feat.
He gave advice for new creators,
Manga artists in Japan draw three hit worthy faces everyday. In one year that's 1000 faces. If you do that, you will be able to draw some amazing pictures. Students who are able to keep this up will surely make it. I have only seen three of my students do this. What's important is that you keep it up.
His favourite type of manga?
Motion comics!
Which artist did he have the best experience working with?
Goseki Kojima and Ryoichi Ikegami. Without them, I wouldn't be the person I am today.
And which artist would helike to work with in the future?
One more would definitely be Kazuo Kamimura.
Beating writer's block,
I think speaking and writing are the same thing, so as long as I can speak, I will never stop being able to write. I have many different ways to get unstuck when I cannot think of any good ideas. I think to go drinking and eating is running away from the realities, so what I do is watch or see a brilliant work. When I do this, it usually motivates me to create a work that does not lose to this work.
Looking at the future of manga,
I think Japanese manga will continue to spread. It won't be on paper, but in digital form. In Japan, there were so many people reading manga on the trains in the past. But there are fewer people reading magazines, just people looking at their smart phones.

From the standpoint of the environment, manga and the amount of paper it uses, may definitely be a problem. Printed manga may be completely supplanted by digital. You won't flip pages anymore, but swipe them. Because of that, how manga are presented will change.
His inspiration in America
I found inspiration in Japanese graphic novels and American comics such as Superman, Batman and the Hulk. Also in American movies like Dirty Harry. Rather than the cartoony manga, I would say I am influenced by the realism of graphic novels.
And his love of 24.
I like golf and mahjong. I also like watching American TV series. I want to see Jack Bauer again.
The one trope in manga that he absolutely cannot stand?
Personally I grow rather tired of violent tsunderes.
And as to fan translations of Japanese manga,
I think the least you can do before translating is getting the author's permission to do so.
I feel that publishing translations online without getting permission is not a good thing.
As to which comic author he'd most like to work with,
I would like to work with Stan Lee.
And coming soon…
I'm currently working hard on the production of a new manga. This one will be adapted into a motion comic as well.

I am currently planning many different projects. These projects are going to be released through many different forms of media. Beginning with the Kickstarter and the motion comic, I am planning on working through many new forms of media.
And on Japanese Government passing the bill to ease Visa Rules on Foreign Animators and Designers?
I believe that the Japanese government should value artistic content more. There are lots of students from abroad studying at my school. Having quality communication with those students is rather hard however.