Who's The Daddy? Teen Titans Academy #12 and Blue & Gold #6 Spoilers
Last night, Bleeding Cool dropped the bomb about a) the identity of Red X in the Teen Titans Academy books but also that b) everyone had probably guessed who it was. Because they pretty much had…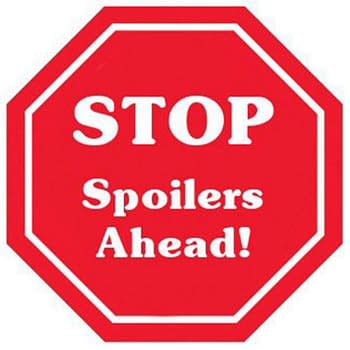 … thanks to DC Comics' consistent colouring schemes and that the guy's surname was Italian for Robin. But in today's Teen Titans Academy #12 by Tim Sheridan and Mike Norton, also that the said identity believed that they were Nightwing's son, and that this was part of the motivation as to why Brick Pettirosso had been playing with additional cosplay. Dick's son is called Brick? Brick Grayson?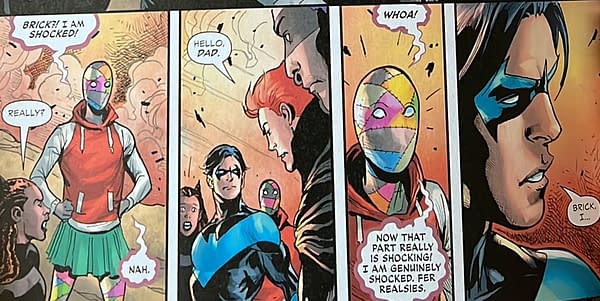 Well, there's a lot of that about today. Such as Blue & Gold #6 from Dan Jurgens and Ryan Sook. Which looks at Booster Gold's parentage.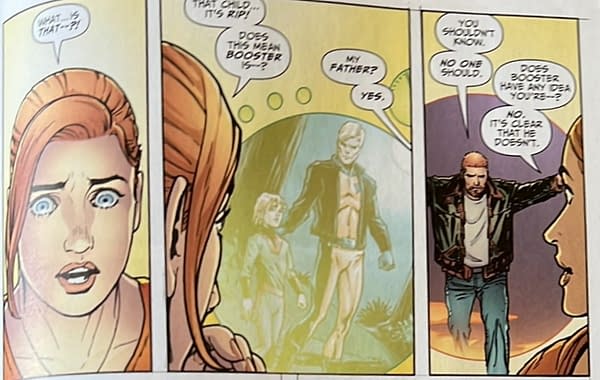 Rip Hunter is Booster Gold's son. Revealed back in his 2007 series, as well as Booster Gold 1,000,000…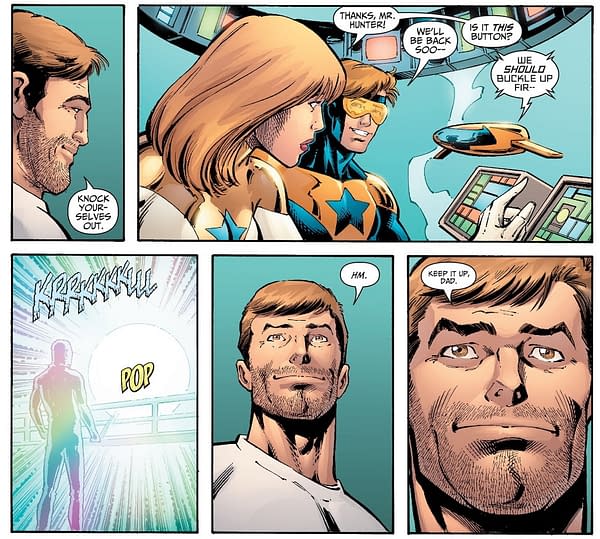 …but now back in continuity, just in case anyone was wondering, though Booster Gold does not know the truth. And handily returning ahead of the new DC's Legends Of Tomorrow television series from CWTV. But one thing writer Dan Jurgens never let on, despite hints, was who Rip Hinter's mother was.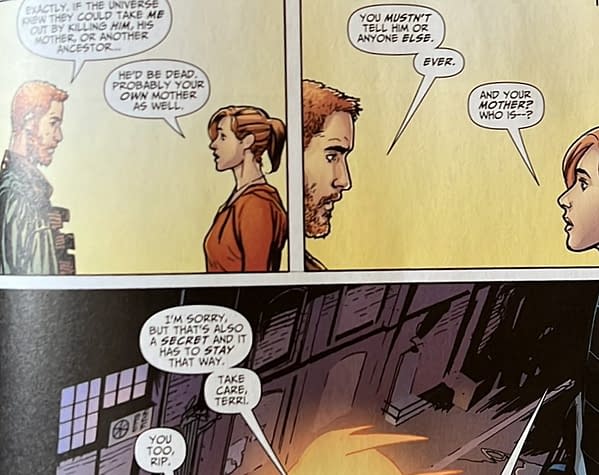 And he still doesn't. Plays it close to the chest, that Dan Jurgens. While over in Teen Titans Academy. It turns out there is more than one Red X they have to deal with. Obviously.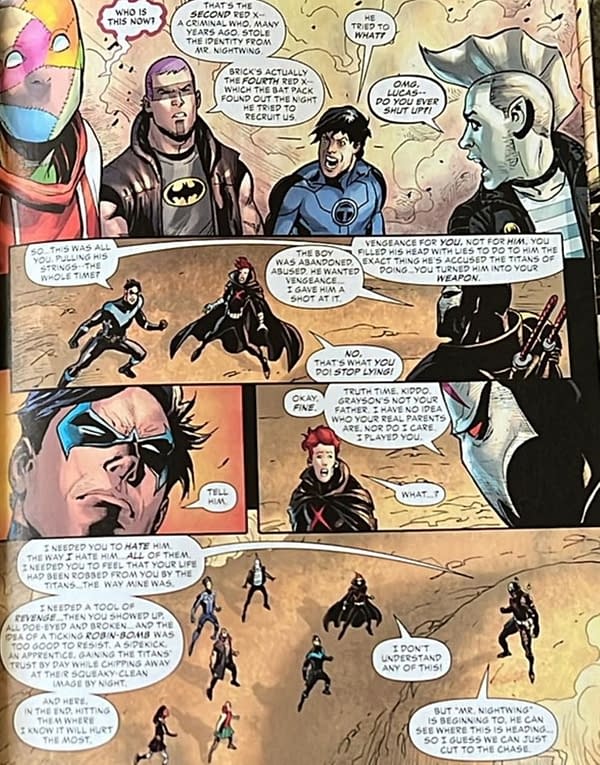 And no, Dick Grayson is not the father of Brick Pettirosso, it was all just a trick of this Red X, who is not the Red X we have been seeing for the rest of Teen Titans Academy – well, not all of it anyway. And we still have a mystery of just who this Red X actually is again…
TEEN TITANS ACADEMY #12 CVR A RAFA SANDOVAL
(W) Tim Sheridan (A) Mike Norton (CA) Rafa Sandoval
It's all come down to this! As their lives are literally tumbling down around them, the Titans must contend with the betrayal of their most troubled student—who has just unmasked themselves as Red X—plus a familiar face from deep in their darkest days, determined to exact an unholy vengeance upon Nightwing. In the end, after the epic collision of past, present, and future, who and what of Teen Titans Academy will still be standing?
Retail: $3.99 In-Store Date: 02/22/2022

BLUE & GOLD #6 (OF 8) CVR A RYAN SOOK
(W) Dan Jurgens (A/CA) Ryan Sook
Booster and Beetle are lost in space! After a disastrous first day on their new jobs as hero business owners and operators, the duo has found themselves kidnapped and stranded on an alien world. Who's to blame? Well, the Omnizon of course! Welcome to her home planet, Br'Honn, where a battle to the death between friends is just another Tuesday!
Retail: $3.99 In-Store Date: 2/22/2022
Thanks to Travis Pelkie for the metnal block unblockage.