X-Men: Gold #29 Review: A Fun and Flowing Action Issue
[rwp-review-recap id="0"]
The X-Men are finally closing in on Alpha and Colossus, but the Sentinel is about to fire off his mutant-killing weapon. Kitty Pryde is phasing through the facility until she can find Alpha and Piotr while the rest of the team keeps Alpha's duplicates busy. She finally catches up to Alpha and Colossus, but it's too late. The weapon has been launched at the Earth, and, if it hits, all who carry the X-gene are dead. Worse yet, Alpha has set his space station base to explode.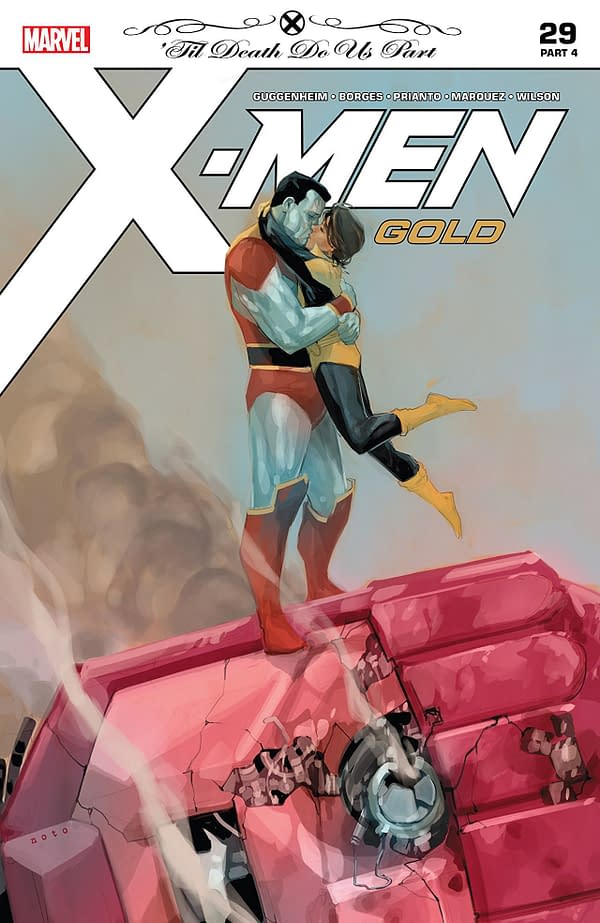 X-Men: Gold seems to have come into its own as a series within the past ten-or-so issues. While the series still has its flaws, I can't deny that most of the recent installments have succeeded in keeping me engaged.
X-Men: Gold #29 is no different. The plot is simple, straightforward, and a little padded out. However, the tension and direction are focused, and, when the crisis ramps up with the weapon launch, I'm invested and feel that increased tension. I may know that, of course, that the X-Men will succeed, but the suspension of disbelief is strong enough so that I'm not left rolling my eyes at the "false" threat.
Plus, the characters are written better than in earlier issues of the run. Kitty and Piotr have some cute moments, Iceman gets to be a badass, Storm is Storm and awesome, and Gambit garners a couple of laughs.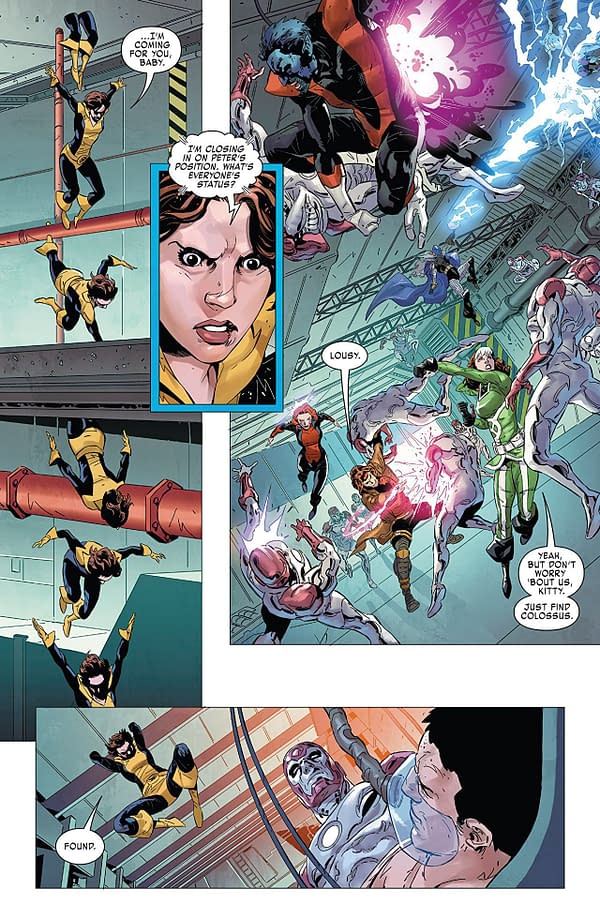 Artist Geraldo Borges and color artist Arif Prianto handle the bulk of the art in the book, with David Marquez and Matthew Wilson crafting the opening flashback. Both teams perform great work, with Borges and Prianto showing they know how to keep action scenes flowing while maintaining good color balance. The opening scene is a heart-wrenching memory, and Marquez and Wilson handle the emotions excellently.
X-Men: Gold #29 is a solidly good installment for Marvel's premiere mutant team. The action is good, the scenes flow well, and the pacing is handled well despite some obvious padding. That padding along with some iffy lines of dialogue keep it from being a perfect book, but it is a good one. I can recommend it easily, and you should check it out.
[rwp-review-ratings id="0"]
[rwp-review-form id="0"]