X-Men Gold #32 Review: The Tragedy of the Phoenix
[rwp-review-recap id="0"]
Rachel Summers, aka Prestige and formerly known as the Phoenix, has been driven into a frenzy by Mesmero. She has already downed Colossus and Kitty Pryde, and Magik and Storm follow soon after. Cyclops, Nightcrawler, Iceman, and Pyro are the only ones left to calm Rachel down, but, after Prestige so easily incapacitated the other X-Men, can these four X-Men save the day?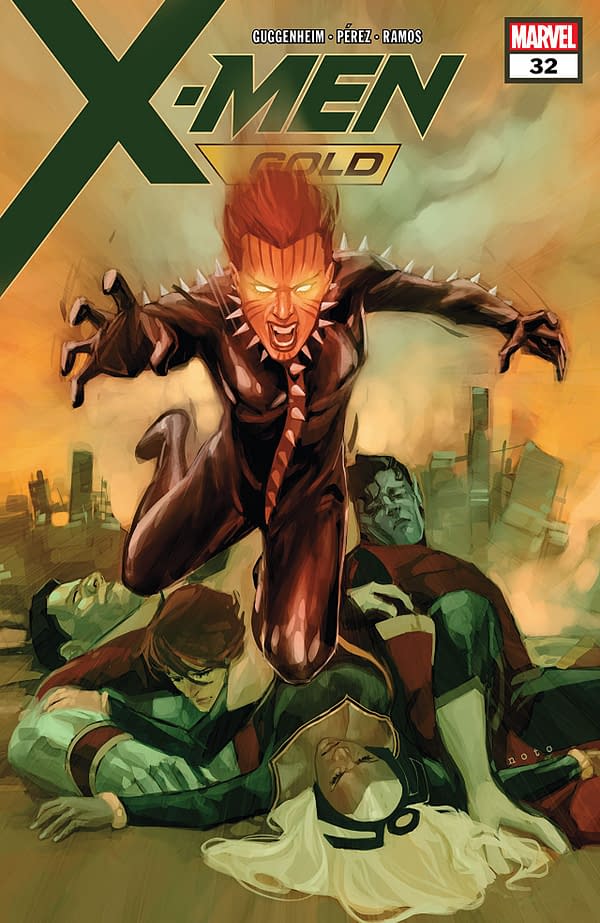 After the Days of Future Past retread that was X-Men Gold #31, X-Men Gold #32 shows that this could have really been wrapped up in a single issue. That said, this was still a solid read, and it would have been nice for it to not have been proceeded by a truly pointless read.
But we're here to talk about #32, not #31. It's not a brilliant installment, but it has many nice moments that keep it engaging enough to carry through to the end. Magik lamenting what she feels she has done to Kitty and Piotr's relationship is a nice character moment. Nightcrawler and young Cyclops putting everything on the line to get through to Rachel reminds the reader what sets the X-Men apart from other superhero teams.
It doesn't quite wrap up the story. Mesmero isn't apprehended at the end, and there is a chance he was never there at all (which would make for a more interesting conclusion). That said, something actually happened this issue, and it made for a decent book.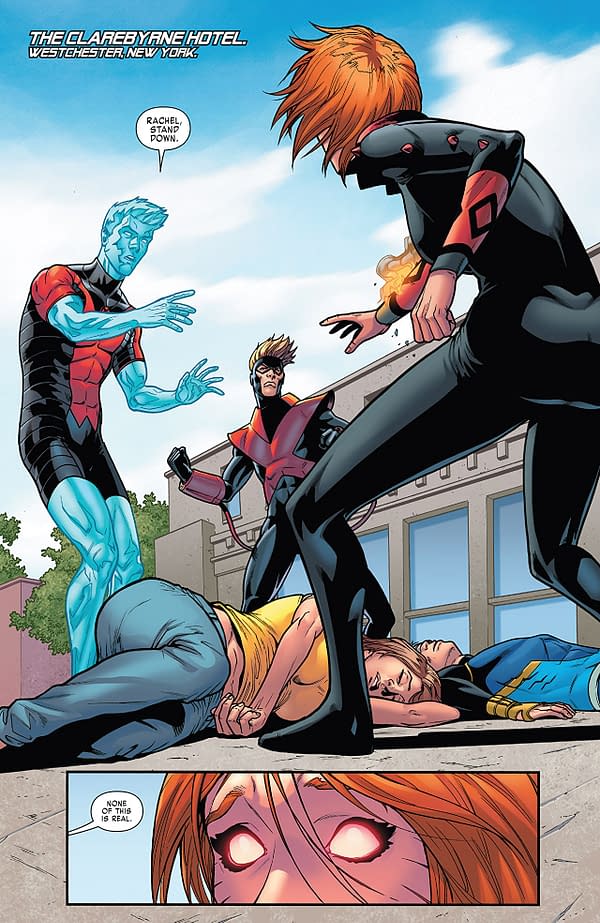 Pere Perez did some excellent work with the visuals in this comic, giving highly detailed and slightly textured artwork. The characters have a sleek and defined look, the background detail is well done too, and the sequencing is solid throughout. Jay David Ramos's color work is bright and well balanced, though it could use some more radical and disparate shades to give the book a more fantastical vibe. It still looks great though, and so does the entire book.
X-Men Gold #32 is another decent installment of the series. The tragedy of Rachel Summers and her past causes more disruption in the team, and we see how the X-Men handle the situation. The art looks quite good, and the overall book earns a recommendation. Feel free to check it out.
[rwp-review-ratings id="0"]
[rwp-review-form id="0"]