Fans of leather-jacket wearing Superboy Connor Kent won't have to wait much longer for the return of their beloved character. Superboy returns in January's Young Justice #1. But where has he been since the start of the DC Rebirth? In March, thanks to the efforts of "The Great One" Brian Bendis, Patrick Gleason, and Viktor Bogdanovic, we'll finally find out.
DC's March solicitations tell us that Young Justice #3 will reveal "where Connor Kent has been all this time," calling it a big issue for Superboy fans. Has he been hanging out with the Fantastic Four this whole time? We're betting that's it. But most importantly… who the hell is "Connor" Kent?
Young Justice #3 hits stores on March 6th.
YOUNG JUSTICE #3
written by BRIAN MICHAEL BENDIS
art by PATRICK GLEASON and VIKTOR BOGDANOVIC
cover by PATRICK GLEASON
variant cover by EVAN "DOC" SHANER
Young Justice is back, baby! Bendis and Gleason reunite all your favorites in one place! Robin (Tim Drake—the best Robin) and Amethyst (best Princess of Gemworld!) team with Wonder Girl, Jinny Hex and the new Teen Lantern (not even close to the best Green Lantern) to take back the mysterious Gemworld from the evil forces of dark Opal. Meanwhile, the reunited Impulse and Superboy have a lot of explaining to do. Also in this issue, find out where Connor Kent has been all this time. This is a big issue for Superboy fans!
ON SALE 03.06.19
$3.99 US | 32 PAGES
FC | RATED T+
This issue will ship with two covers.
Please see the order form for details.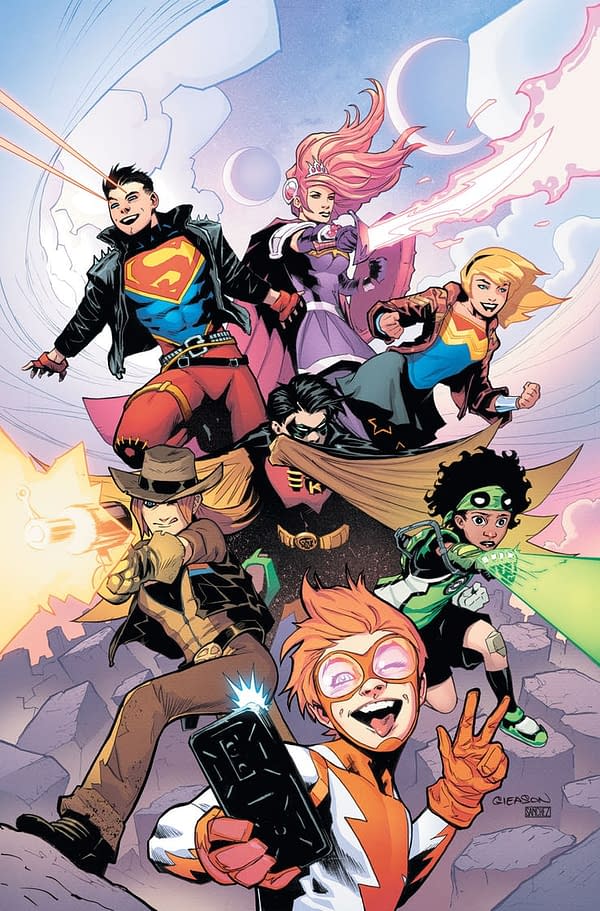 Enjoyed this article? Share it!