"A Purrtato Tail" is an RPG about Cats that are also Potatoes
A Purrtato Tail is an RPG about cats that are also potatoes, and you connect them together to create bridges in order to complete dungeons and face off against bosses. It's honestly, both fascinating and horrifying at the same time. The game is slated to release in 2020.
When I got the pitch from Drunk Robot Games and developer Red Vonix for A Purrtato Tail: By the Light of the Elderstar, I'll admit I had a ton of questions. Chatting with Red at PAX West earlier this month answered far fewer of those questions than I'd like, but I can't even be mad about that.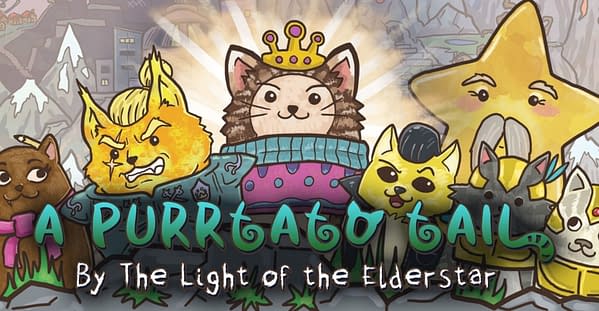 First off, my immediate question was "why are the cats potatoes" which, well, is apparently a secret for players to uncover through playing the game. Which naturally means I don't know why the cats are vegetables. But I need to know. I need to understand the vegetable cats and the lack of information, still to this day, kills me. However, I was unable to obtain an answer since it would be a major spoiler. Which now means I need to play this game. And honestly, I can respect that. I may not like it, but I can respect it.
The game is a puzzle RPG where you need to collect more potato cats in order to traverse through the game. It's styled as a metroidvania, and while I can't argue with that classification, it also doesn't seem to quite fit. Probably because my brain just can't get around the "cats are potatoes" thing. So, for more information, you can check out the official description:
Comedic and filled with character and cats, A Purrtato Tail places the player in the paws of Queen Pixel – leader of the potato cats. Whiskered whispers speak about a race of mysterious bioluminescent creatures whom thrive in the dark, appearing across the Isle of Moar. The existence of the Nightshades proves to be real when they burst forth from the shadows, igniting their secret plan by kidnapping Queen Pixel's most trusted adviser – the Elderstar. The Queen of Purrtatoes must now venture into the world, navigating treacherous pits by collecting characters, connecting them together to form bridges and ledges. She must solve puzzles within the world itself by utilizing the unique abilities of each character, fight Nightshades with her sharpened claws, and discover the foul secret of the Nightshades' dark plan.
If you'd like a glimpse of what A Purrtato Tail will look like when it launches next year, you can check out the game's latest trailer below.