Hero Forge Miniatures had something special to show off today for fans of the Adventure Zone podcast!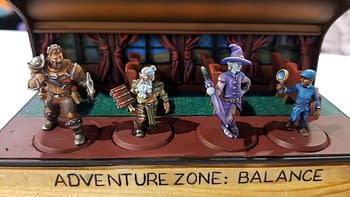 Stop by our booth at PAX Unplugged 2018 and check out our The Adventure Zone dioramas, made with our HeroForge character maker! We love the heck out of those good good boys, & wanted to show a little scene from Murder on the Rockport Limited, complete with Merle, Taako, Magnus & Angus! Booth #3152!
For those of you who haven't seen Hero Forge products yet, you're in for a treat: Hero Forge is a website that allows you to create just about any miniature you have in mind, and has enough versatility baked in that you can change poses, weapons, accessories, costumes, and even genres; if you need an elf holding a shotgun in her left hand and a fireball in her right, smirking and wearing a cowboy hat while running, Hero Forge can help you bring that to life! There are even options for mounted heroes!
You start with a blank figure, then add the costume options you want, throw in your gender options, weapons, poses, and gear, then pick what kind of material you want your figure printed in. Once you pay for the figure it will be printed, then mailed to you a short time later. You can even opt to have the digital files sent to you so you can print them on your 3D printer at home!
Hero Forge minis can get pricey, though. The best option I have seen is the premium plastic model, which will set you back a cool $30. That being said, though, you're getting a completely unique miniature made to order for less money than most of Citadel Miniatures Finecast line.
Enjoyed this article? Share it!