Aftermath of the Autumn Burchett Fiasco – "Magic: The Gathering"
Well, this is one Magic: The Gathering article I didn't want to write, but I totally expected it would come up. It was an inevitability as early as this past Friday evening (November 8th), and now we at Bleeding Cool are here to make sense of the wreckage. Here we go.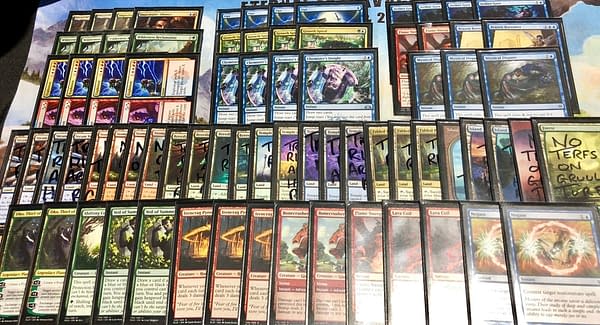 After nonbinary Magic professional player Autumn Burchett's cards altered with trans rights slogans were stifled from seeing play during the sixth Mythic Championship at MagicFest Richmond – and then when the decision was reversed – people remarked a ton over Twitter and Reddit that the reversal of Wizards of the Coast's decision would incite alt-right players to try the same sort of thing.
Aaaaaaand they did.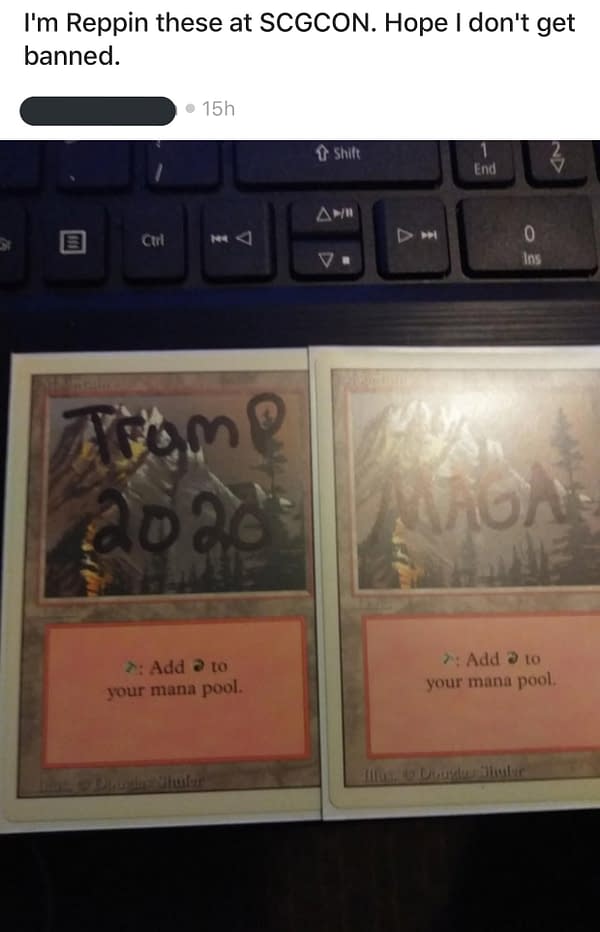 For those who can't see the above image for whatever reason, it shows two basic Revised Edition Mountains altered with the words "Trump 2020" and "MAGA". Though, to be fair, the first one reads to me as "Tramp 2020" due to its placement and poor handwriting. I digress.
Of course, the whole thing that riles me up about this is that in reality, this person is literally using this controversy not as a chance to make a statement on a platform that – frankly – doesn't need more. This person is actually trying to martyr themselves by getting banned and the statement "I hope I don't get banned" is complete malarkey and incitement at that. If the player does get banned (and rightly so, due to the rules regarding Authorized Cards in the official Magic tournament rules PDF), his colleagues will see that and call it a double standard. There's really no easy way out of any of this for Wizards of the Coast.
The rules state:
Artistic modifications are acceptable in sanctioned tournaments, provided that the modifications do not make the card art unrecognizable, contain substantial strategic advice, or contain offensive images. Artistic modifications also may not obstruct or change the mana cost or name of the card.
The Mountains in this image are political in nature and that can be seen as an offensive statement by some. If a judge is called on account of these cards, it is very likely that they will be removed. By contrast, Burchett's cards are not political or offensive, simply making a statement to recognize trans rights as human rights.
Twitter is abuzz, once again, about the controversy, and after Greg Weisman's book was panned by the LGBTQ+ Magic: The Gathering community for its erasure of Planeswalker Chandra Nalaar's bisexuality, we seriously don't want more controversies to arise. Here's what some players had to say about the above image and its implications:
Again, as one Twitter user points out, these cards are most likely illegal for competitive play in that they relay political messages. The key difference that alt-right advocates miss is that while these are political, Autumn Burchett's trans-rights-sloganed cards are not. Trans rights are not political, and, as they're human rights, they are not up for debate.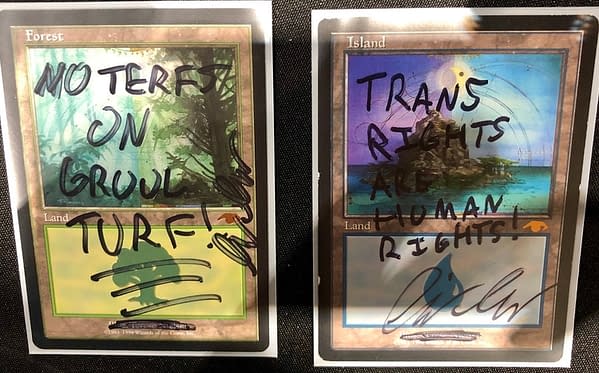 But what do you think? Is any part of this okay? Would you play with someone with cards altered in this way? How about if they were altered in the way Burchett did theirs? Let us know.
---
---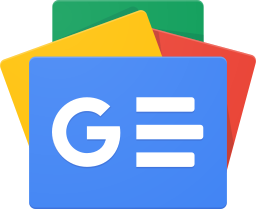 Stay up-to-date and support the site by following Bleeding Cool on Google News today!