Arcade1Up Makes Us Want to Open an Arcade in Our Home
When we visited with the crew of Arcade1Up at E3 this year, a feeling of nostalgia hit us like a ton of bricks that we weren't ready for. These guys create old-school arcade cabinets, but not in the traditional sense. These are shrunken down cabinets that are sold for a cheaper price and can fit in your home much more easily than ones you could buy from an arcade or a dealer.
Take, for example, the lovely Street Fighter II: Champion Edition cabinet below, complete with all the original marble art and fighter pictures you would see if you walked into an arcade back in 1992.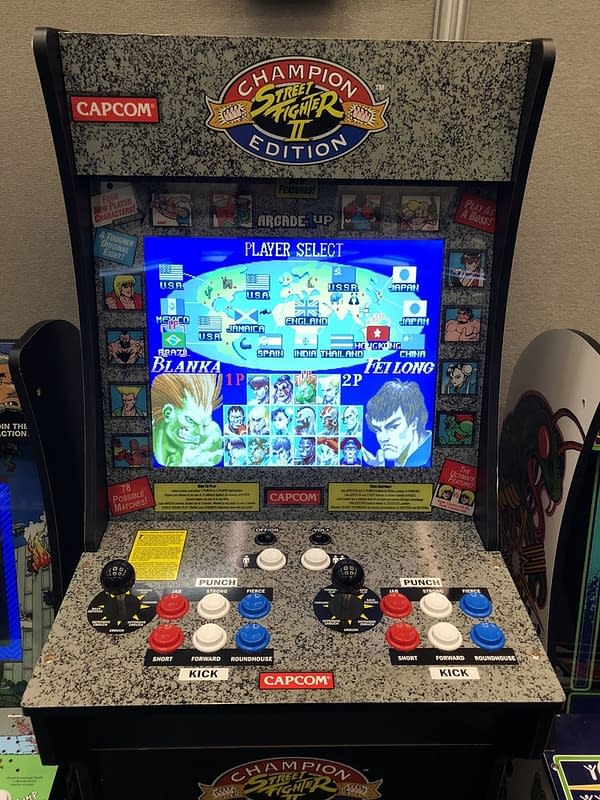 This particular cabinet stands at 4' tall and comes complete with sticks and buttons that are the same size as the original but placed on a smaller panel. Below you'll see cabinets that for classics like Centipede, Final Fight, Asteroids, and Rampage. And if you're an arcade enthusiast, each one is broken down into pieces so you can build them yourselves. Standard arcade cabinets come in a variety of prices depending on the quality, but Arcade1Up's systems are around $400, which is a damn fine price considering what you're buying and building.
These were an absolute joy to try out and, with any luck, we'll be able to receive one to review it more in-depth and let you know how they play. But on the surface, if you're looking to make a game room in your home, or are maybe looking for some nostalgia for your kids that's about their height, these are a must-own. There are also options to buy a 1' booster to make them 5' tall, and you can also buy stools to sit in front of them with. Pre-orders will be made available on July 25th through Wal-Mart and GameStop, and you can find more info on their website.