AxE: Alliance vs Empire Releases Pets and a New Beginner Server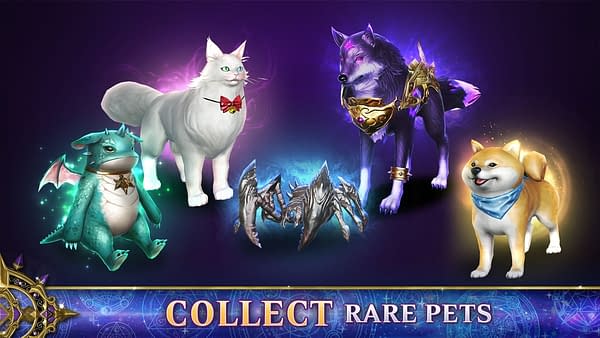 Nexon has launched another update for the sprawling fantasy universe of AxE: Alliance vs Empire, their recently released mobile MMORPG.
The latest AxE game update introduces a new Pet system which allows players to collect stat-boosting pet companions ranging from adorable cats and dogs to otherworldly dragons. Players that are new to AxE will be welcomed into the world through a special new player server that will give them a head start by providing extra gold and bonus rewards. The update also introduces a new expansive region with the Valley of Corruption for players to explore. Because pets and a beginner server just wasn't enough for one game update.
Starting today, players can enjoy new content in AxE, including:
Pets – Ranging from cute to cool, pets come in different varieties of colors and boost a randomly assigned stat type, such as attack, defense or healing. To celebrate the arrival of the new system, all players will receive one free pet and can gain others as rewards from special events or through premium currency
New Regions – A new open-world location ripe for exploration: Valley of Corruption
New Player Server – Players who are beginning their journey in AxE will welcomed to a server that will help immerse them in the MMORPG as well reward them with extra gold and other goodies
Level Cap Increase – An increased level cap will have players battling to earn more experience to reach all-new level of 100
Brand New Costume – Players can now collect the stylish Noble costume set for their heroes
The game recently hit 8 Million downloads and gave players access to unique customizable wings.
AxE is available as a free download via the App Store for iPhone and iPad or Google Play for Android.