AxE Celebrates its 100-Day Anniversary with 150-player PvP
Nexon's mobile MMORPG AxE: Alliance vs Empire is celebrating it's 100-day anniversary with a series of special events and in-game rewards. The biggest addition to the game for the 100-Day anniversary is the inclusion of 150-player PvP battles, which raise the stakes on the game's main conflict of global domination between two opposing factions.
As of today, AxE players can enjoy the following celebrations:
150 Player PvP Golden Dragon Battles: In the new massive PvP mode, two teams of 75 players will battle to defeat a massive Golden Dragon, with the team that deals the most damage to the beast winning epic in-game rewards.
Special 28-day attendance rewards for players that log in:

Each day that new and existing players log in to AxE they can expect rewards of some of the most powerful gear in the game, including wings, a mythic armor, and a mythic weapon.
Returning players (those who haven't logged in for 15 days) get a pair of wings, a mythic armor and a mythic weapon, as well as a unique pet.

New Dungeon: Players can now test their skills by delving into the Pallid Snowfields, a frozen and dangerous dungeon.
Event Achievement: Each day that players complete the Field of Honor they will be rewarded with 20 Enhancement Spelldust and are able to earn up to 200 Spelldust during the event period.
Event Attendance: By simply logging into AxE during the campaign period, players will receive 100 White Diamonds each day and one million gold if they log in seven times.
Event Mission: For the final reward players will be granted the highly sought after Mythic Spiritstone.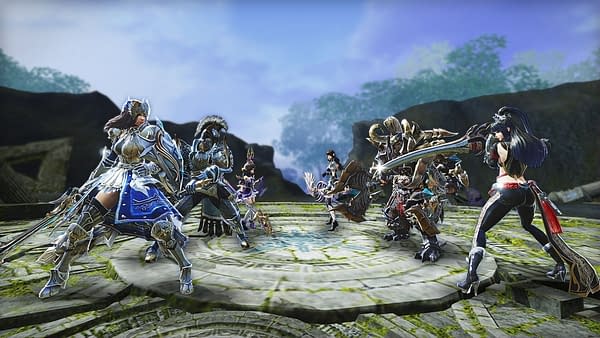 The official game description for AxE reads:
Set in an epic fantasy universe, AxE lets players choose between two warring factions, the Darkhaan Empire and the Galanos Alliance, clashing in a huge conflict to control the fate of the world. AxE offers six unique character classes for players to level up and customize as they traverse vibrant open-world locations full of unique characters, enemies, quests, and rare mythical loot. AxE is available as a free download via the App Store for iPhone and iPad or Google Play for Android devices.
You can check out the 100-Day celebration in the trailer below.
https://youtu.be/h7FxT3o6cgA