Ravensburger is a company that's known for their exquisitely-made puzzles, board games, and craft kits. Back to the Future: Dice Through Time is definitely one of those games that fits that description to a T. We got a chance to review it, and here's what we think!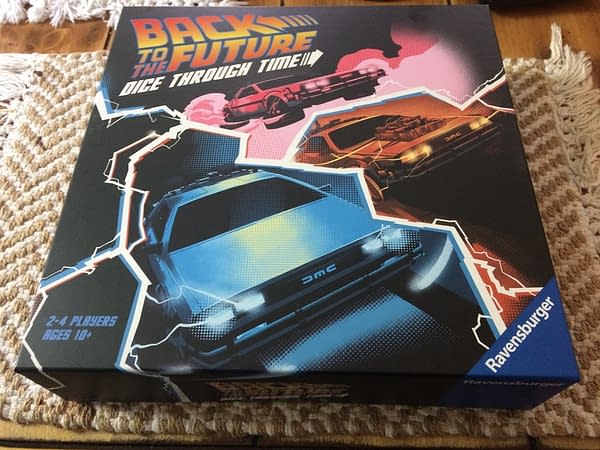 Back to the Future: Dice Through Time is a lovingly-made homage to the Back to the Future movie trilogy, which is celebrating its 35th anniversary this year. The board game contains a game board, four mats for players, four movers themed after the infamous DeLorean time machine, four standees themed after Biff, the key antagonist from the movies, sixteen dice, 92 cards in total, 45 tokens, an "OUTATIME" marker, and the rulebook.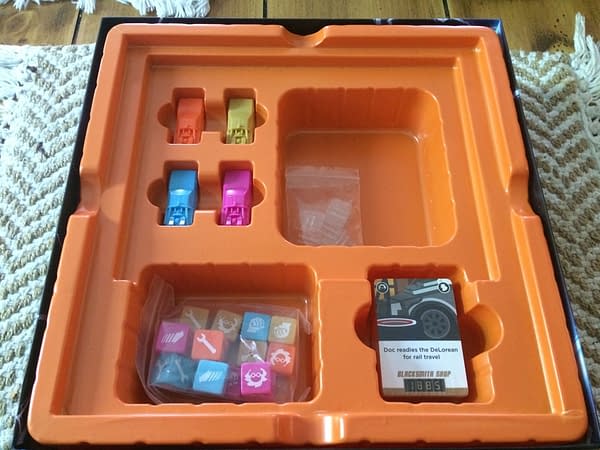 However, something that isn't mentioned in the notes about the components for this game is the respectfully-intense and immersive note that is the first thing players opening this game for the first time will see. In it, "Doc" Emmett Brown addresses Marty McFly and Dr. Brown about the rules of time travel, noting emphasis that you are forbidden from interacting with other versions of yourselves lest you rip a hole in the space-time continuum. Talk about intense!
We just got this game today, and so we have yet to look into gameplay, but with the immersion very much present we predict it will be a fun experience to undergo.
What do you think of the Back to the Future trilogy? Do you recommend it? And have you gotten to play this game? If you've enjoyed it, let us know in the comments below!
Enjoyed this article? Share it!