Call of Duty World League 2018 Championship Finals Predictions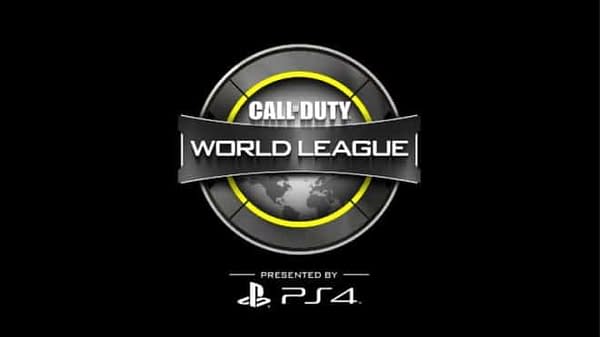 I'm not much of a betting woman, but if I were going to make predictions about tomorrow's CWL Championship Grand Finals, I'd have some interesting bracket choices. As things stand, at the start of the final day of the Call of Duty World League 2018 Championships, we have EvilGeniuses and Team Kaliber while the loser's bracket Round 4 includes a Team Envy and FaZe Clan rematch as well as a match between EUnited and Luminosity.
While Team Kaliber took home the win at CWL Anaheim, the 2018 season of the Call of Duty World League has been nothing but a series of surprises, last minute comebacks, and upsets. And the Championship tournament has continued that trend, which is why I think TK isn't going to be taking home the 2018 CWL Championship rings.
FaZe Clan have basically been sitting in the losers bracket all season, though they did come close to the grand finals in Anaheim. However, they lost out to Luminosity in Anaheim's Loser's Bracket Round 7 and to Team Kaliber in the Loser's Bracket Round 4 in Seattle. It hasn't been a particularly great season for FaZe, and with a cheating scandal breaking out days ahead of CWL Seattle, it would be one hell of a comeback if they did manage to get to the Grand Finals and win the title. Which is why I'm going to throw my hat in on FaZe as the winners this year, even though it is a pretty incredible longshot.
What can I say, I really like improbable predictions. However, a whole lot of the internet is pulling for FaZe to win this year, despite TK's clear dominance at Hardpoint. A few are still backing EG and EUnited, but it looks like most are really hoping for an underdog story for either FaZe or LG to win in a doublesweep.
If you wanted to go ahead and fill out your own version of the bracket, here's a set for tomorrow's matches. Feel free to make your own predictions and commiserate with me when you're wrong. Because yes, I know this one is a hell of a bet. But what's internet sports betting for if not to make slightly outlandish predictions, huh?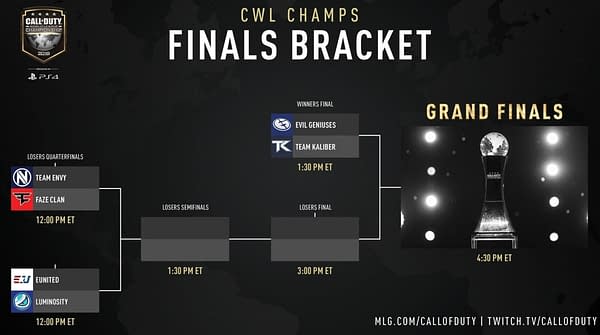 On the other hand, I'm not going to be crying however this shakes down, because tomorrow's going to be fun to watch regardless of which team becomes the Call of Duty World League 2018 Champions.