Checking Out "World Of Horror" & "N1RV Ann-A" At PAX West 2019
At PAX West 2019, we had a chance to go visit with Ysbryd Games for an hour and refresh ourselves with two games: World Of Horror and N1RV Ann-A. Now normally we would give each one a proper self-contained article except for one catch: we've seen both these games already at the past two PAX events we attended. So rather than rehash what we've had to say already on them we're just updating you with what we got from the new demos. First up, World Of Horror presented us a couple of new things. First, even though you can't see it in the images, we got the power to swap out the color palette. So I can make it look like almost any Console/PC version from the Atari 2600 up. Second, we got a new story, in which we visit an uncle we never knew we had before who had passed away, only to discover his home is super nightmare fuel haunted. I want this game NOW. It still has no proper release date, but man, do I need this RIGHT NOW for Halloween.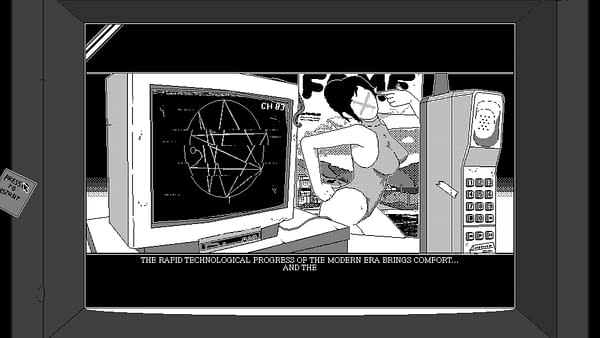 Next up, N1RV Ann-A. This is the game where we're a bartender in a cyberpunk future, and not everything is as it seems at times. Instead of the usual shy woman to start off with like the previous demo, we were given Olivia, who you see below. Overworked and passionate and just looking to stop feeling things for a moment, she's willing to gush about what's going on at her work. If you ask the right questions, that is. You can learn some dirty secrets of what her super future company is currently up to. This game, too, has no official release date yet, but I would love to have it in my Steam library now.