Rare 1990 Nintendo World Championship Cartridge At $45,000 At Auction
A very rare Nintendo World Championships cartridge form the 1990 event is on auction at ComicConnect right now, and already over $45,000.
---
Nintendo collectors, a truly unique item is up for auction right now, and not something that you see very often. The 1990 Nintendo World Championship was a seminal event in not only gaming but, some would say, one of the events that gave birth to esports. One of the competitors at the event, Nicholas Membrez-Weiler, was only seven years old at the tourney and became a finalist. At the event, participants were given a sticker to place over the grey cartridges to take home, and his personal one is up for auction at ComicConnect as we speak, a CGC-graded 6.5 copy which is part of the Nick Membrez-Weiler NWC Collection being auctioned in ComicConnect's Event Auction #53. The games on the cartridge included Super Mario Bros. World 1&2, Rad Racer, and Tetris, but a modified version for the competition. As of right now, the rare item is fetching a whopping $45,000 and is expected to keep going up.
"We were blown away that bidding on the grey cartridge went up so fast, It is quite extraordinary and shows there is real demand for a piece of video game competition history!" ComicConnect President Vincent Zurzolo tells us. "It is quite extraordinary and shows there is real demand for a piece of video game competition history."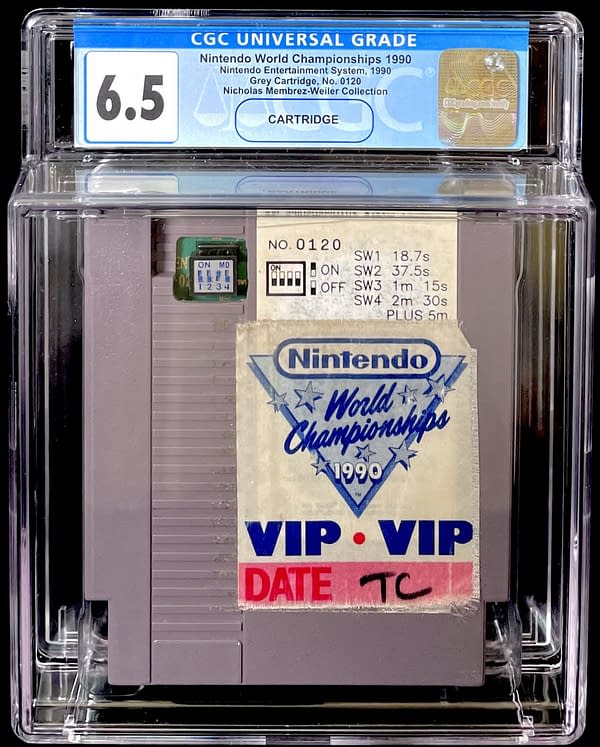 As Rare As Nintendo Games Get
The history of the event, and this copy: "At seven years old, Nicholas Membrez-Weiler was the youngest finalist in the inaugural Nintendo World Championship. The tournament was divided into three separate age groups: 11-and-under, 12-to-17, and 18-and-over. Most of the items in the collection are unique to Nicholas and his family, including his parents, Chris "Grizz" Weiler and Michelle Membrez, who also entered the tournament. Although he did not win the Nintendo World Championships, Nicholas Membrez-Weiler was a trailblazer for the early esports community. At only seven years old, he had competed on the national stage and bested hundreds of thousands of other children from across the country. The success that he and the other NWC finalists had was chronicled in newspapers, magazines, and television. That experience helped create the necessary desire and passion among gamers for esports to become a permanent fixture in American culture.
Given the significance of the 1990 Nintendo World Championship, memorabilia associated with this event is highly desirable. It represents the moment gaming finally broke through the glass ceiling, both as an artistic medium and a competitive platform. As such, news of this collection's auction has been reported by the Associated Press, Yahoo!, and other organizations. ID number goes up to #300, so far about 200+ grey cartridges have been found. With 90 given to competitors at the NWC finals and the rest being given to employees, we can expect that a number have broken down over time whether by use or damage to cartridges. One of the rarest and most sought-after games in video game history. This is one of the highest-graded copies of this game, and less than 30 have been graded across all grading companies."

Affiliates of Bleeding Cool buy from and/or consign to ComicConnect.