Desta: The Memories Between Confirms Late April Release
Desta: The Memories Between will officially drop for PC and Nintendo Switch in April, as you travel the multi-dimensional dream world.
---
Indie developer and publisher ustwo games have revealed that they'll be releasing Desta: The Memories Between for PC and Nintendo Switch in late April. We originally got to play this game during Summer Game Fest Play Days and were blown away by the mechanics used to tell the story. Originally the game was released via Netflix, but now players will get to experience this surreal dream-like storyline for themselves on other platforms when the game drops on April 26th, 2023. Until then, we got more info on the game for you below, as well as the gameplay trailer.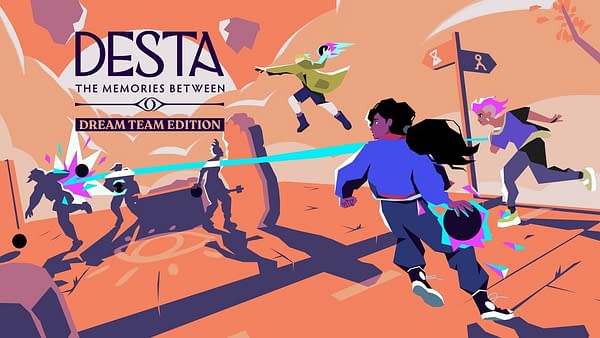 Desta: The Memories Between is a character-driven tactics game which allows you to explore a beautiful, multi-dimensional dream world – all through a tactical and physics-based ball game. Led by ustwo games' first non-binary protagonist, Desta – players will meet a variety of fully voiced and highly charismatic characters that are all part of Desta's journey. As players throw each ball, more about Desta and their relationships to their friends and family are revealed – with plenty of mystery and big emotion waiting for you to explore. The game will also be coming to new platforms with a brand-new look: Dream Team Edition. This exclusive version will include the base Desta: The Memories Between game, all major content updates, as well as a 52-page Digital Art Book and complete game soundtrack. Players will be treated to reimagined tactics, brand new characters and new game modes, abilities and memoria in this dreamy collection. Dream Team Edition also offers more flexibility for every type of player, featuring:
Shortcuts for story-focused gamers;
Challenge Mode for players wanting to take their tactics to the next level with a variety of surprising and unique challenges to overcome outside of the core game experience, and;
Nightmare Mode, a first for ustwo games, is an ultra-hardcore gameplay experience for those wanting to fully immerse themselves in the roguelike aspects of memories between.