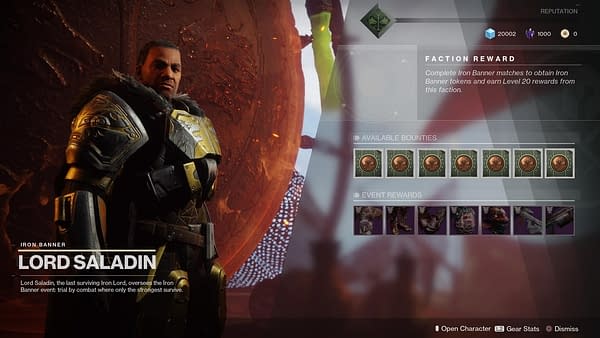 Destiny 2: Forsaken is going into its second week, which means Bungie has announced a ton of rewards for the Last Wish raid, Iron Banner event, and even a new Crucible map.
You can find all the details over on the Destiny blog, or check out the highlights below.
The Last Wish raid has gone live today, and if you've been paying attention to social media, you know exactly how that's going. Last Wish, like many of Destiny and Destiny 2's raids, is asking its players to put up with an absurd amount of adversity. However, unlike other notable raids in the series, Last Wish will drop 580 ads on a fireteam of six players. Which is almost mind-breaking.
Any player who beats the Last Wish raid within the first 24 hours will receive the "Wish Ascended" emblem, so if you want to brag to all your friends about your
Destiny
skills, you best get on with it. Any player who beats the raid before 10 AM PDT on Tuesday, September 18th will have access to a personalized Last Wish raid jacket available through the
Bungie Rewards program
.
Yes, that is an actual physical item for you to wear IRL.
For those who aren't fond of raids, this week in Destiny 2, we'll be getting the first Iron Banner event of Forsaken. And this time around, your individual Power level will matter, which is a first for Destiny 2's PVP. So you'll be in an arms race against other Guardians, rather than focusing just on your individual skills. So make sure to have your best gear on when you step out for a date with Lord Saladin.
Control is the game mode this time around, and the Iron Banner will begin on Tuesday, September 18th and run until Tuesday, September 25th.
Additionally, Saladin will present seven weekly bounties for you to complete during the event, each bounty will reward you with a special themed reward. And yes, all Iron Banner weapons and armor can be dropped as bounty rewards this time. You can even redeem Season 3 tokens for Season 4 reputation packages, which can also drop the new Iron Banner weapons and armor.
If that's not enough rewards options for you, post-match drops are returning with Iron Banner this time as well.
Finally, a reprised Crucible map is returning with the start of the Iron Banner event at 10 AM PDT on September 18th. This map will be available in Crucible playlists for all Destiny 2 players. Forsaken owners will also get access to the map in private matches. The identity of the map in question will be revealed on Monday.
Enjoyed this article? Share it!