DOOM Eternal Reveals New Artwork For Upcoming DLC
Just in case you fall into the small group of people who have beat DOOM Eternal on every difficulty, there's some DLC on the way. The game has been getting praise and criticism for the difficulty online, but it hasn't stopped people from trying to beat it on the hardest difficulty with restrictions. Because there are some hardcore players out there who have defeated it in every way possible now and are looking to challenge themselves. Thankfully, the devs as Bethesda Softworks have some content on the way as the game will receive its first DLC addition sometime this summer. The company decided to tease a little of what you might see in the DLC by releasing two screenshots on Twitter, both of which we have for you here. One of them appears to be a base set at sea that looks like it used to be an oil refinery, while the other looks like a fortified castle somewhere in a snowy mountain region. Neither of which look like glorious vacation spots, but excellent places to rip and tear.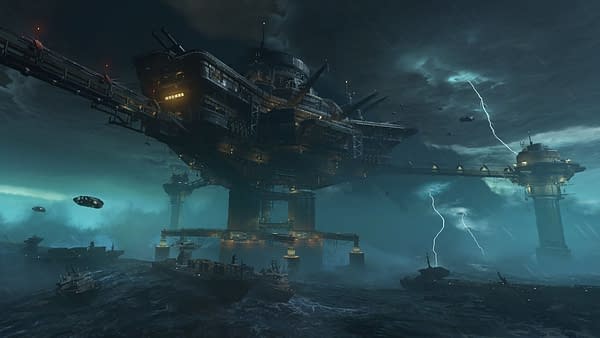 Beyond that, we don't know much of anything about the DLC content, mainly because Bethesda's crew has been keeping things quiet on purpose to prevent leaks. What we do know, based on news that happened a couple of weeks ago, is that the DLC probably won't have any new music from composer Mick Gordon. It was revealed that even though he wrote all the music, he didn't have the final say on the mix. Something that left him to say on Twitter that he probably won't be working with the company again. Does that mean the DOOM Eternal DLC will have rehashed tracks or an appearance from someone new? We won't really know until the company gives us more details.