DOOM Eternal's Soundtrack Is Available For The Collector's Edition
If you happen to be one of the people who purchased the Collector's Edition of DOOM Eternal, you can now get your hands on the soundtrack. The word came down on id Software's official Twitter page, letting fans know that the entire composed by Mick Gordon is now available to download. What's more, the OST will soon be available on Spotify, iTunes, and other music services in the weeks to come. One of the biggest annoyances some fans had with the release of the game is that the soundtrack was not a stand-alone purchase. One of the biggest things about the 2016 game's soundtrack is that it basically was its own character in the game that helped fuel your experience with the DOOM Soldier's rage. It became a top-selling game soundtrack that had people listening to it on repeat and searching all of the music tracks for clues about the impending sequel. So, of course, there were going to be people clamoring for this one. Sadly, it was reported just before launch that it would be a digital add-on that wouldn't arrive until nearly a month after the game's initial release.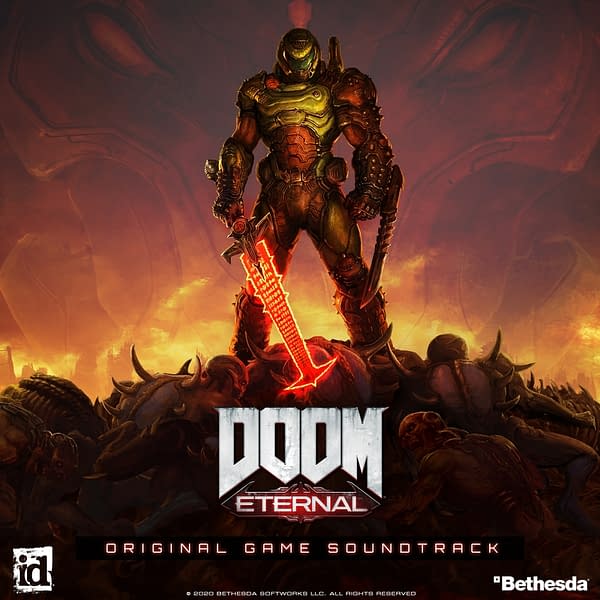 Having played the campaign for DOOM Eternal ourselves, we can attest this is by far one of the best video game soundtracks you'll hear in a while. It fits perfectly with the rip-and-tear violence in the game as you run around Earth and the bowels of Hell to stop demons from taking over the planet and turning it into their own playpen. Every bit of music, from the intro all the way to the credits are here to fuel the intensity on your screen. So to finally have that available as downloadable content for a mobile device to walk around to or slay internal demons with at the gym is going to be amazing. No word yet on what the soundtrack will run you when it finally gets put to other platforms. Hopefully, it won't cost that much to purchase as an entire soundtrack rather than doing it song-by-song.