Dragon Ball Super Card Game Releases Battle Hour Promos
Shallot from Dragon Ball Legends gets his first Dragon Ball Super Card Game appearance with these newly revealed promo cards.
---
Bandai has announced new Dragon Ball Super Card Game promo cards as a part of the Dragon Ball Games Battle Hour 2023. Let's get into the details.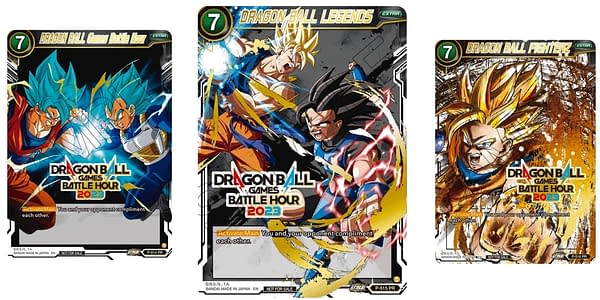 Bandai writes:
Hello DBSCG fans! Today we are excited to announce the EXCLUSIVE promotional cards and prizing at Dragon Ball Games Battle Hour 2023! All participants, including spectators, will receive a set of 3 EXCLUSIVE cards — Dragon Ball Games Battle Hour, Dragon Ball Legends, and Dragon Ball Fighterz! (P-514, P-515, P-516) These cards will ONLY available by attending Dragon Ball Games Battle Hour 2023! Registrations are still available for both the LCQ and Spectators slots. Don't miss out on your chance to get these exclusive cards, or the chance to become the DBSCG World Champion! Come back soon to see the World Championship prizes!
The first card depicts Super Saiyan Blue Goku and Super Saiyan Blue Vegeta clashing.
The second card is the biggest reveal as part of this event, as it is the first-ever appearance of Shallot in DBSCG. Shallot is an ancient Saiyan from Planet Sadala. He is known from Dragon Ball Legends. For those who don't know this character, he is capable of the following transformations: Greate Ape, Super Saiyan, Super Saiyan 2, Super Saiyan 3, Golden Great Ape, and Super Saiyan God. The artwork here is directly from the game, much like the illustration on the next card, which many fans may find familiar as the iconic banner art of FighterZ.
Tomorrow, we will reveal three more promo cards that will be released by Bandai as promos for this special event.
Stay tuned to Bleeding Cool for more Dragon Ball Super Card Game previews from Power Absorbed, the next installment of the Zenkai Series. Stay tuned for more as well as other reveals from upcoming DBSCG products.