Earthfall Will Release for PC and Consoles this July
Holospark will be releasing their sci-fi co-op shooter Earthfall for PlayStation 4, PC, and Xbox One on July 13th, 2018. Earthfall is intended to be a spiritual successor to co-op shooters like Left 4 Dead, and therefore pits you and a friend against an alien invasion.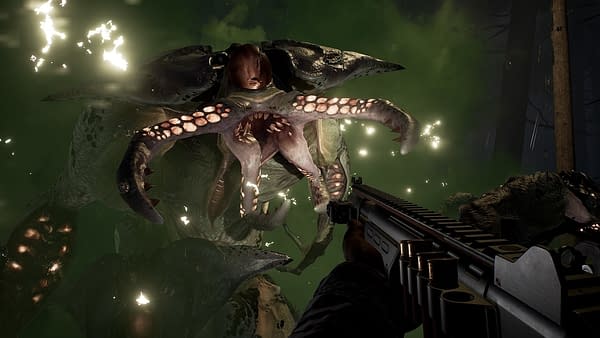 Earthfall has been available on Steam in Early Access, but July will mark its proper 1.0 release. In addition to the digital release on all platforms, the game will also get a physical release thanks to Gearbox Publishing at retail stors for the PS4 and Xbox One versions of the game. PC players will simply have to content themselves with the digital sales on Steam.
The game will release with two editions available, the Standard Edition will retail at $29.99 USD, while the Deluxe Edition will retail for $39.99 USD and come with additional weapon and character skins.
At launch, the game will feature 10 missions across two campaigns in which players will team up in the Pacific Northwest to fight off waves of alien forces, and hopefully save some survivors in the meantime. If you're wondering why the game is set in the Pacific Northwest, well. Holospark is a development studio based in Seattle. So naturally the devs decided to make this an alien invasion in their hometown.
The announcement came with a couple of statements from Holospark and Gearbox.
"We are excited to bring Earthfall to PlayStation 4 and Xbox One on July 13. By partnering with Gearbox Publishing on a physical release, even more fans will be able to get their hands on Earthfall on launch day," said Russell Williams, CEO of Holospark. "We've been hard at work on Earthfall since it first launched in Early Access last year, and we're really proud of what the game has become. Our thanks to everyone that played Earthfall and shared their feedback, whether that was on Steam or in-person. You've helped make the game what is it today."
"Once we got our hands on Earthfall, we couldn't stop playing it! It's the modern co-op horde shooter we've been missing for so long," said Brad Schliesser, director of sales at Gearbox. "We knew Earthfall was the perfect addition to our growing publishing efforts at Gearbox."
"We are excited to be working with Holospark's talented group of veteran developers to bring the amazing co-op experience of Earthfall to retail this summer," added Steve Gibson, head of Gearbox Publishing.
Earthfall is slated to release on July 13th, 2018 for PS4, Xbox One, and PC.
As part of the release date announcement, Holospark released a new trailer for the game, which you can check out below.