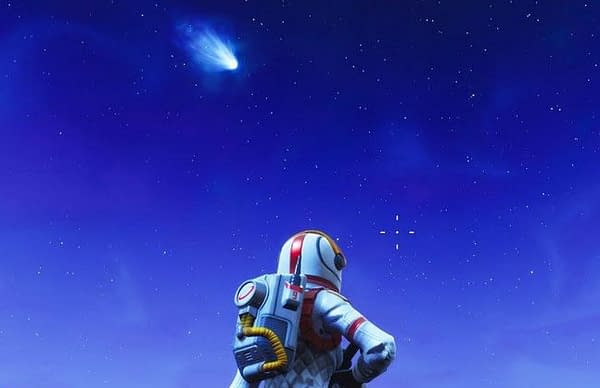 Epic Games has been having a lot of fun with player's theories on the comet and meteor shower that have taken up thr sky on the Fortnite Battle Royale map. Today, they decided to compound that with an emergency test pattern image on their Twitter account. In proper Fortnite fashion, the test pattern had a llama standing respendant in front of it.
The tweet suggests that something big is going to happen to Fortnite. Likely with the coming of Season 4.
— Fortnite (@FortniteGame) April 25, 2018
The picture was posted on both Twitter and Facebook as well as making appearances on TVs in the game at the same time. Approaching the TV in game just leads to static and alarm sounds. Something is clearly coming to Fortnite, but the exact details are still unknown. Everyone has their pet theories, however.
Many in the community feel the comet is heralding the end of favorite (and reviled) drop point Tilted Towers. Other possible theories include an alien invasion – which is supported by Season 3's cosmetics, the comet, and some veiled references to Independence Day.
And Epic Games are more than happy to continue poking the metaphorical bear that is Fortnite conspiracy theorists. So we'll just have to wait until April 30th to find out more.
Enjoyed this article? Share it!