Epic Games Reveals A Massive Fortnite Event With Party Royale
Epic Games revealed today they're going to take the live concert thing a step further in Fortnite as they'll be throwing a Party Royale. The last few times the devs threw an in-game concert, they continually racked up higher and higher numbers for consecutive players in a game at one time. The most recent being when Travis Scott's concert scored 12.3 million users the night his show debuted. Now the team is going to triple-down on their bid to have one of the biggest shows possible by throwing three separate concerts over the weekend. The company has booked Dillon Francis, Steve Aoki, and Deadmau5 to play an event they're simply calling Party Royale. This will feature back-to-back-to-back sets live on the big screen at the Main Stage, where players can dive in from the bus and hit the dance floor, chill with friends, or jump into other activities. You can read more about the event below, which will kick off at 9pm ET/6pm PT on Friday, May 8th, 2020.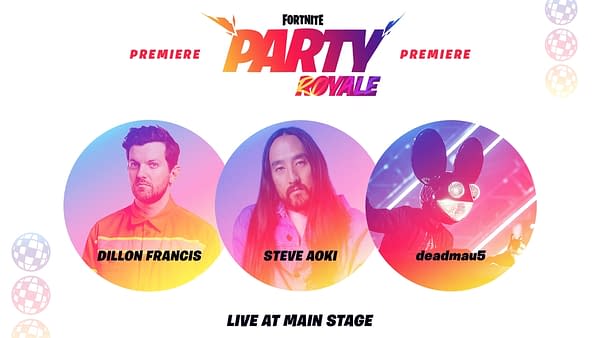 If you can't make it right at 9 PM ET, you can still catch the rest of the live show as long as you join before it ends at 10 PM ET. If you're still busy, don't worry — the Party Royale Premiere will return for a rebroadcast. On May 9 from 2 PM to 3 PM ET, you can catch the full show once again at the Main Stage. Just like the first airing, you can still jump in during the show. The Party Royale Premiere also has a party favor. Anyone who logs into Fortnite from Friday, May 8 at 6 PM ET to Monday, May 11 at 10 AM ET will get the new, music-reactive Neon Wings Back Bling for free! Perfect for wearing at the show. Shows at the Main Stage are just some of the many attractions at Party Royale. In this new experimental and evolving space, there are many things to do and places to explore. For example: take on aerial obstacle courses at Skydive Rift, participate in boat races at Fishsticks' Boat Race, and grab items at The Plaza such as the new Paint Launcher. There are no weapons or mats in Party Royale — it's all about just hanging out and having fun. No Sweat. All Chill. Let's Party!