Evil Geniuses Crowned Call of Duty World League 2018 Champions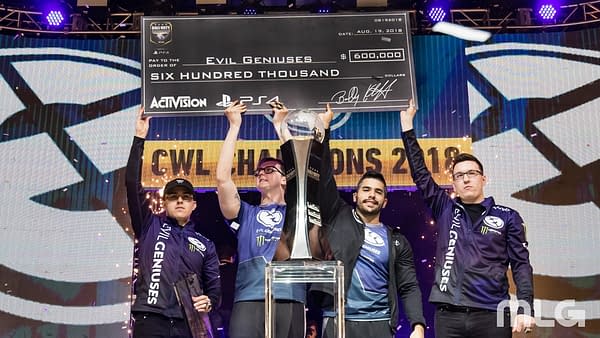 Last night marked the end of the 2018 season of the Call of Duty World League with the Championship Grand Finals in Columbus, Ohio. After some fierce competition and surprising upsets, the grand finals went to a second best of five match between Team Kaliber and Evil Geniuses, despite EG having the Winner Bracket advantage. TK walked away with the win on the first round of best of five by winning three matches to EG's two victories — however, because TK came into the grand finals from the lower bracket, the competition went into a second set, which was a complete shutout.
So after an incredibly tense day, Evil Geniuses were crowned the 2018 CWL Champs. The winning team comprised of Adam "Assault" Garcia, Patrick "Aches" Price, Bryan "Apathy" Zhelyazkov, and Justin "Silly" Fargo-Palmer. For those keeping track, this is the second time Aches and Apathy have earned themselves Call of Duty Champion rings. Surprisingly, Assault has never won an event prior to this year's CWL Championship, which is a bit of a surprise considering he also walked away with the MVP trophy this weekend.
The boys took to twitter after the competition to express their joy at nabbing the win, alongside some heartfelt thanks to fans, and even a bit of retrospective amazement. We can't say we blame them, honestly.
The current EG team for COD: WWII hasn't been in play long, as they've really only had this roster since April's mid-season changes when EUnited and EchoFox dropped Silly and Assault respectively. Which just makes the win all the more surprising.
The final rankings for the 2018 Championship tournament are as follows:
1st – Evil Geniuses
2nd – Team Kaliber
3rd – FaZe Clan
4th – eUnited
5th/6th – Team Envy / Luminosity
7th/8th – Elevate / Red Reserve