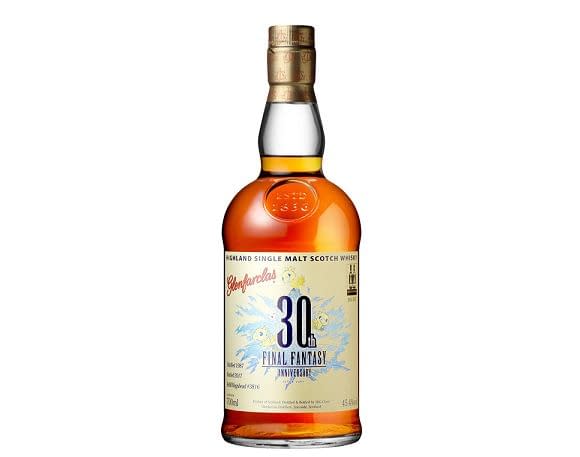 To celebrate Final Fantasy's 30th Anniversary, Square Enix has partnered with Glenfarclas to offer Japanese gamers the chance to own 30-year highlands single malt scotch with a Final Fantasy label. Starting today, preorders are being accepted by Japanese liquor store Shinanoya for the commemorative whiskey.
The Final Fantasy whiskey follows in Square Enix's tradition of pairing their games with foodstuffs through numerous restaurant projects, Final Fantasy XV and Dissidia Cup Noodles, except that it's much fancier.
The production line of whiskey will come out at 303 bottles of 30-year single malt scotch made in the Scottish Highlands by renowned distillery Glenfarclas. The single-malt refill hogshead was originally distilled in 1987, the same year as the Japanese release Final Fantasy on the Nintendo Famicom. The label bears the elaborate Final Fantasy 30th Anniversary logo created by original series character designer Yoshitaka Amano, featuring Chocobos, crystals, and even a semi-hidden Moogle. Because if there is any visual representation of the Final Fantasy series, it would need to include all three elements.
Now, this is a pretty pricey bottle of whiskey. 30-year single malt Glenfarclas usually retails for about $350 USD, and one 700 ml bottle of the Final Fantasy-branded Glenfarclas will retail for ¥ 37,000 JPY, which is about $330 USD. So it isn't like you're dealing with a massive price increase just because of a video game label, it's actually pretty much standard market price, which is great.
Starting today, you can reserve a bottle directly from Shinanoya branches, and the company will begin taking preorders online through its website (which boasts that international shipping is available for most products) on January 26th. Any bottles not presold by February 2nd will then be offered for immediate purchase, but odds are they'll all be snatched up before then, so if you'd like to sip the Final Fantasy whiskey while playing your favorite game of the series, your best bet is to act fast.
Sadly, American Final Fantasy fans, it appears that Shinanoya cannot ship alcohol to the States.
Originally reported by SoraNews24
Enjoyed this article? Share it!