While Square Enix may have announced the release date for the Final Fantasy VII Remake last night, they took a decent portion out of their E3 showcase to focus on the game. SE brought out producer Yoshinori Kitase to share some info on the game, after they ran a nice new CGI hype reel.
Kitase started out by thanking fans for their patience, as it has been a long while since the remake was announced at E3 2015.
Much like the original, Final Fantasy VII Remake will require multiple discs. Kitase expects that the game will fill two bluray discs. One disc will be entirely focused on the story of Midgar, but the game will branch out beyond the initial narrative.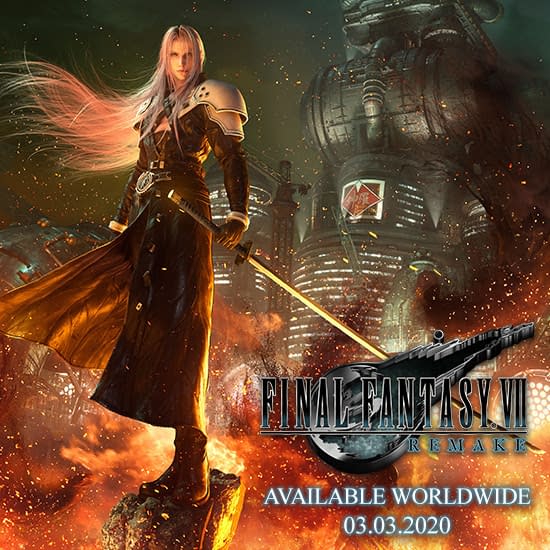 Square Enix then gave us a nice, lengthy gameplay walkthrough of the game's hybrid combat system. After all, the game combines real-time action with turn-based strategy, so it'll be new but also a little bit of a throwback. Cloud also gets two ATB bars, which will fill as he lands standard attacks. When the ATB bar fills, Cloud can enter tactical mode, which slows time, and allows the player to launch a whole ton of devastating skills, including spells.
Your party members will also have the ability to use ATB bars and a tactical mode. So far, the only one we know who can do so is Barrett. Tifa, Yuffie, and other party members… we'll have to wait for confirmation, but based on what we've seen, it seems like it.
If you don't want to deal with the tactical mode, you can shortcut spells and abilities so you can get through the combat faster. So, you can play how you like.
The gameplay reveal included a boss fight between Cloud, Barrett, and the Scorpion mech.
Final Fantasy VII Remake will launch for PS4 on March 3, 2020.
But for those at E3, the game will be playable at the Square Enix booth.
They also released a longer version of last night's release date trailer, which you can check out below. Additionally, you can now pre-order the game, including the special First Class edition.
Enjoyed this article? Share it!