Free League Publishing Merges with Team Järnringen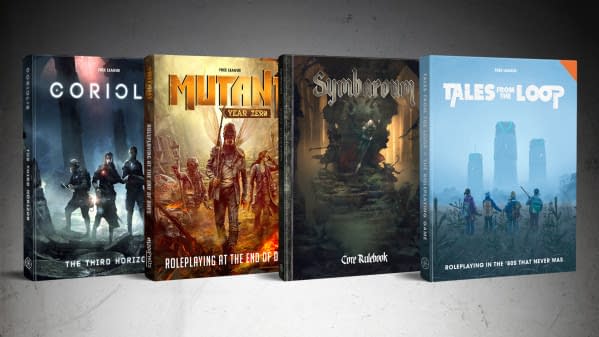 Free League Publishing and Team Järnringen, two of Sweden's leading publishers of tabletop roleplaying games, will be merging into one company.
The merger of the two publishers of acclaimed RPGs such as Tales from the Loop, Symbaroum and Mutant: Year Zero, is underway already. The combined company will keep the name Free League Publishing, and already has plans for several releases in the upcoming year.
"We're very happy that the merger is finally happening," says Free League co-founder Tomas Härenstam. "We have a long history with Järnringen, great respect for their work, and we share similar philosophies on game design. Together we will be stronger, better, and have a greater international reach. And we'll have even more fun at work."
The two teams are already working together, with former Järnringen members involved in current Free League projects, and vice versa. Järnringen will be bringing their acclaimed fantasy RPG Symbaroum to the table during the merger, so it will join Free League's line-up of award winning games like Mutant: Year Zero, Coriolis – The Third Horizon, and Tales from the Loop, as well as the upcoming RPG Forbidden Lands and Crusader Kings – The Board Game.12
Free League was initially created ten years ago, as a group of freelancers writing supplements for earlier (Swedish) versions of Mutant and Coriolis, published by a previous incarnation of Järnringen. The fact that these two game franchises are still part of the Free League RPG lineup today is appreciated by the members of Team Järnringen.
"There are many benefits of this merger," say's Järnringen co-founder Mattias Johnsson Haake. "But of course, the idea of working on Mutant and Coriolis again is especially appealing. Coriolis was created by us, and is in a way like a child we never got to see grow up. Mutant also has a special place in our hearts."
Before you question how equal the merger will be, as the combined company will keep the Free League name, the decision was made with full agreemend between both parties as Free League's name has been out on the international circuit for a longer period of time, and has a broader reach among gamers and sales partners.
The merger will not affect any existing games, as they will continue to release and update as planned alongside some newer projects being developed for 2019. More information on the new titles will be revealed at a later date.