The Most Fun You Can Have At Star Wars Celebration? The Bounty Hunt Scavenger Hunt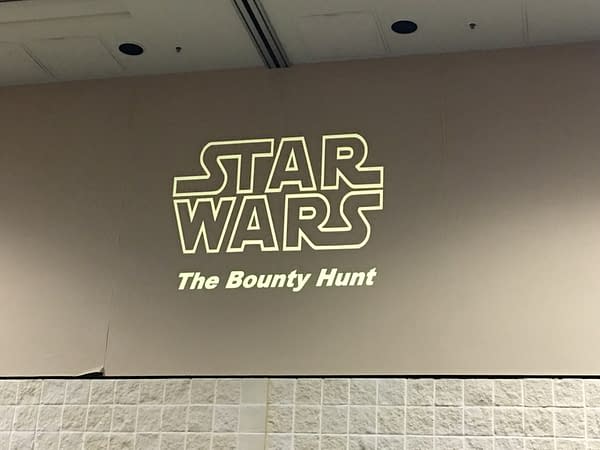 I gotta admit, by the late afternoon of Star Wars Celebration today I was feeling pretty rundown and out of it. I love Star Wars so very much, but the long lines and other fans who go out of their way to make an experience a bad one ruin it for everyone. Luckily, I was asked by a couple friends to join in on a "Bounty Hunt" scavenger hunt around the convention center, and let me tell you, it may end up being the best decision I make all weekend.
The Bounty Hunt consisted of teams of four, and the object was to use teamwork and your knowledge of Star Wars, especially Rogue One for this one, to solve all types of puzzles: math, word searches, defining ships, word scrambles. There was something for everyone here. I for one am bad at remembering names and squadron names, but great at locations and movie quotes. So I took the lead one those. I can word search with the best of them, so I also made sure to do those as well.
After solving the puzzles, they would give you the name of characters that you then had to run around the entire convention center to find so they could stamp your passbook. This was the most fun part, as people could choose wheather to make you work for the stamp or not. At one booth you had to draw a Rogue One character (I drew K2-SO), at another we had to light saber duel to get the stamp (my friend Brian took care of that one). Once you got all seven puzzles done, you had to run back to the original room and turn in your stamps for points and get puzzle group number two. We had two hours to do it all, and we needed all of it
In the end, we stumbled a tad we the harder puzzles in round two, then ran into the crowd leaving other later panels, so we could track down the people we needed stamps from. We scored a respectable 45,000 points, not enough to finish in the top 5. We learned a great deal for next time though, along with a nifty poker chip collectible as well.
If you are at Celebration, check out Sunday's family Bounty Hunt for families centered around Rebels. If not, and you end up at a future Celebration, I can't recommend it enough