G Fuel Creates The Tetris Blast Flavor For World Tetris Day
G Fuel popped out a special surprise today for Tetris fans as they have created a Tetris Blast flavor to celebrate World Tetris Day. Right now, as of when this article is being written, you can go purchase a special Collector's Box that will come with the new flavor (rainbow candy) in a 40 serving tub, along with a 16 oz shaker specially branded with the Tetris logo on it, for $40. They're also selling a canned version at select retail spots, but not available on the website. They will sell these until supplies last, or when the promotion officially end of June 7th (Monday).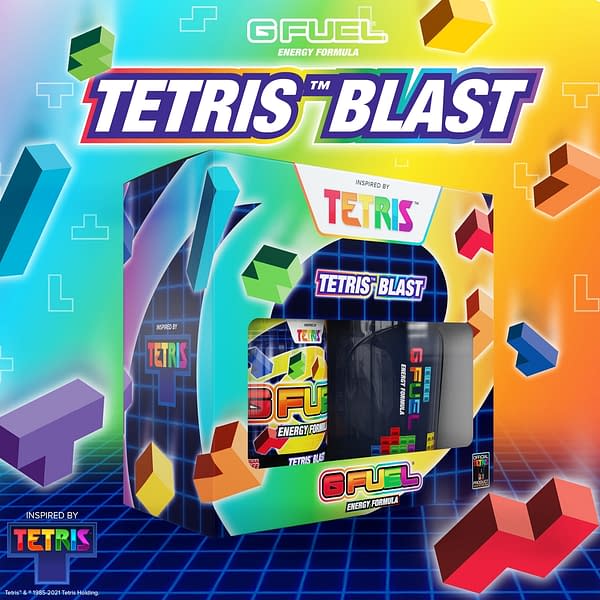 "Tetris is thrilled to be working with G Fuel, one of the biggest names in energy drinks, to deliver the ultimate thirst quencher for game fans," said Maya Rogers, President and CEO of Tetris. "We see G Fuel Tetris Blast as the perfect addition to our ever-growing lineup of lifestyle products, and what better day for its debut than World Tetris Day."

"We're honored to team up with the iconic Tetris brand and for the first time in history, take fans from just playing Tetris to playing and tasting Tetris in the form of an energy drink," said G Fuel Founder and CEO, Cliff Morgan. "With Tetris Blast's bursting rainbow candy flavor and attention-grabbing packaging, Tetris fans around the world will love sipping on our newest flavor as they make order out of chaos."

The G Fuel Tetris Blast tub energy formula is sugar-free and loaded with antioxidants from 18 different fruit extracts. Each serving has only 15 calories and contains 140 mg of caffeine. A single 16 oz G Fuel Tetris Blast Can has zero calories and contains 300 mg of caffeine. Like all G Fuel Tetris Blast tub and can energy formulas, G Fuel Tetris Blast contains G Fuel's proprietary energy and focus-enhancing complexes, so you can rotate and move Tetriminos with ease and clear as many lines as possible. The new flavor's packaging is decorated in a vibrant rainbow of color, symbolic of G Fuel Tetris Blast's energizing rainbow candy flavor. It also features Tetriminos in their iconic shapes and colors dropping into the rectangular Matrix in true Tetris form.