"Gamestop 2.0": A Retail Renaissance! – Pt.1
Gamestop has been a quintessential force in gaming retail. Famous for having a presence in almost every shopping mall and retail strip, and infamously joked about for providing heavily-diminished returns on trade-ins, people often say that Gamestop is on its last legs. However, despite anything that you may have heard, this could not be farther from the truth. This weekend, I went to Tulsa, Oklahoma, and in that very town, with facilitation from the company itself, I came across Gamestop's plans for "Gamestop 2.0", a complete revitalization of the retail chain.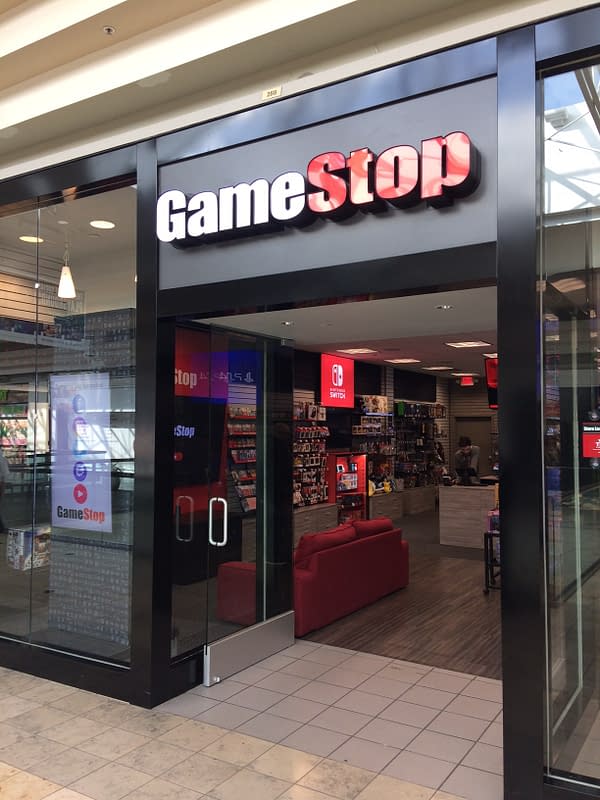 The first store I went to, out of a total of four stores visited in Tulsa and the surrounding towns (which itself is out of thirteen stores as a grand total in the area), was their largest space in the highly-experimental rebranding test. Therein, I saw a massive space with a whopping 36 gaming monitors, "co-op" couches in front of massive television screens, and concessions in the back. They even had a community table where people were playing Dungeons & Dragons!

But what's more, I saw people of various ages playing together. This to me was never something I would ever have considered for the Gamestop brand, and it's wonderful to see. And what made this even cooler was that this was only the beginning.
At the second location, which was nestled in the Woodland Hills shopping mall conveniently nearby my hotel, the Gamestop there, also part of the experiment, had and sold video games like the first and also had a co-op couch and screen, but they also had a major focus: Funko Pop! figurines and other collectibles.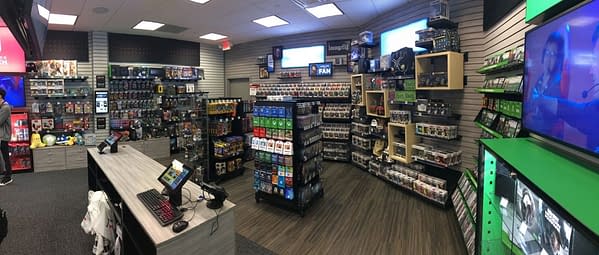 This was neat to me because despite its immediate proximity to places like ThinkGeek, Hot Topic, and BoxLunch, I could imagine anyone looking for non-exclusive (or – let's face it – exclusives in equal measure) Pop! figures going there first above any of the aforementioned stores. This upheaval in strategy is novel of Gamestop, and I'm here for it!
That was all of Friday's fun. How grand! I could not wait to see what more lay in store for me as well as the other people invited to experience this amazing experiment firsthand.
On Saturday, I visited a smaller model store with similar specs to the first store visited. This store was equipped with twelve monitors, as opposed to 36, but virtually every other Gamestop 2.0 amenity was there. To top that off, space equaled what one might see of a typical Gamestop store as it stands now. That means there's more than just mere hope for this experiment to expand!

Finally, I visited a "retro" location, which was roughly an hour outside of Tulsa. This store boasts games from every generation of console from the original Nintendo Entertainment System onwards and has four CRT-televisions to play any number of these games on, in addition to the standard amenities that Gamestop 2.0 seems to offer (including the co-op couches and collectibles).

This entire experiment has untold potential behind it, and I'm more than eager to see what becomes of this project. In the coming parts of this massive feature, I'll be going over all the wonders of what I saw across each day this past weekend, and also detailing the hurdles that Gamestop faces at each store (and how they propose to face said hurdles).
But what do you think of the new store model types that Gamestop is testing out in Tulsa, Oklahoma? Do any of these particular models appeal to you as a consumer? Let us know!
You can find Part Two of this feature here.