Hasbro & Strange Planet Launch New Card Game Sweet Existence
Hasbro has teamed up with Strange Planet to create a brand new tabletop card game you can pre-order right now called Sweet Existence. In recent years, Strange Planet has basically become a staple of the internet as the cute alien characters by Nathan W. Pyle put their own spin on life around Earth. Now you can get them in tabletop form as they have created Sweet Existence: A Strange Planet Card Game with Hasbro. As you might expect from a game like this, it is filled sayings and conversations for you to marvel at the absurd complexities of life. This is actually a strategic party card game in which the universally "relatable" beings offer their unique perspective on the world in a way that will help you collect cookies, of all things. Here's the official description.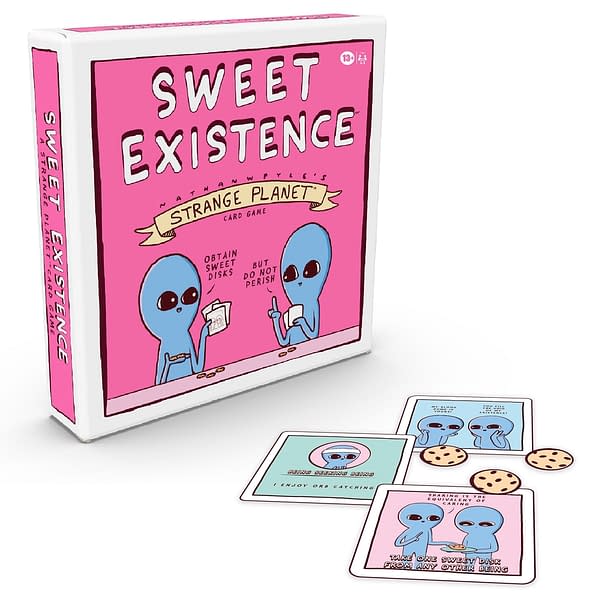 Millions of Earthlings have embraced the genius and creativity of Nathan W. Pyle's Strange Planet webcomic and series of books. And now you can laugh and marvel at the absurd complexities of life with Sweet Existence, a strategic party card game inspired by his universally relatable beings and their unique perspective on the world. This game has players forming connections, experiencing life events, and developing strategies to add more Sweet Disks to their stash — all while avoiding the dreaded Perish card. Each card features a unique comic depicting the beings' signature humor and simple curiosity. It's a marvelous, family-friendly party game for current and budding Strange Planet fans.
The game is for players 13 and up for 4-8 people and will be sold for $20. The game will be widely available on September 1st, 2020. Each game can go between 15-40 minutes, depending on how you go about playing it. You can pre-order it now through their website as well as Amazon and Walmart if you'd like.