Holographic Popstar Hatsune Miku Joins the Cast of Master of Eternity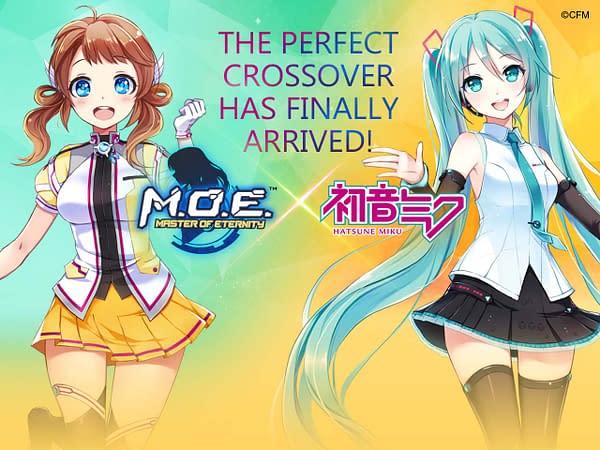 Holographic popstar and dance game icon Hatsune Miku is joining the cast of Master of Eternity today with an exclusive collaboration event between Nexon Korea and Crypton Future Media. Master of Eternity is a mobile action strategy RPG available now for iOS and Android.
If you are somehow unaware, Hatsune Miku is a virtual singer and vocaloid software developed in 2007 by Crypton Future Media that allows users to create music by typing in lyrics and melodies. Miku and her fellow vocaloids have also found fame through a series of concerts, brand advertising, and even a manga series. Miku's also got herself a line of PlayStation dance games from Sega called the Project Diva series. The rhythm games include Miku and various other vocaloids dancing their way through their greatest hits.
During the collaboration period, Master of Eternity players can enjoy a ton of brand-new content including:
The fabulous Hatsune Miku costume
Challenging Operation Mission where players can unlock Hatsune Miku as a playable character
Asgardain Hatsune Miku episode
Four rowdy Hatsune Miku dance songs, including the Master of Eternity theme
Rare opportunity to dress Hatsune Miku in the Asgard Pixie costume
The fresh and exclusive Hatsune Miku content is available today in Master of Eternity for iPhone and Android. You can check out the Hatsune Miku Shooting Star video below.