Posted in: Games, Mobile Games, Niantic, Pokémon GO | Tagged: kalos, Niantic, Niantic Labs, pokemon, pokemon go
---
Here's How These Unreleased Kalos Shinies Will Look In Pokémon GO
Last week, Niantic debuted two new Shiny Pokémon from the Kalos region in Pokémon GO: Skrelp and Clauncher. One thing that is cool about the datamines that are done into the game's code is that when a species is added to the game, their Shiny forms are generally added as well even though they are not made available. This means that we are able to see, through places like Pokémon GO wikis and the PokéMiners, how the Shiny models of these species will appear in the game. We likely have a long while until there release, but it doesn't hurt to get a bit excited about things to come in the future of the game, so let's take a look at how Skrelp, Clauncher, and their evolutions will look when they're released as Shinies in Pokémon GO.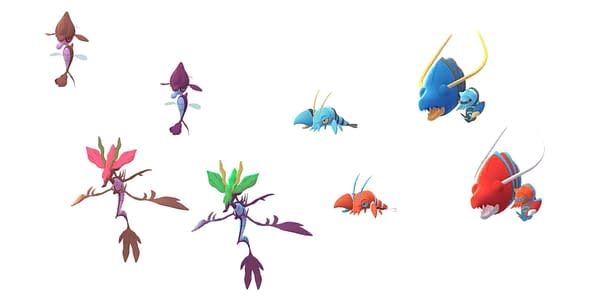 Skrelp is the most subtle of the bunch. In its standard form, it is brown and purple. In its Shiny form, it loses the brown in exchange for dark purple, with it's belly and little poison-spitting mouth turning blue. A nice Shiny indeed. It evolves, though, into the stunning Shiny Dragalge. I love a Shiny with a bold difference in its coloring, and Dragalge comes through with just that. The difference in its head alone, going from coral-red to lime green is terrific. I can't wait until Shiny Skrelp comes out just so I can get this draconic hitter, and I know I'm not the only one.
Then, Clauncher and its evolution do something here in their Shiny form that I absolutely love. They do what I call "The Trubbish Effect." I define "The Trubbish Effect" as when a Shiny becomes more the standard design than the regular version is. Trubbish in its standard form is a green garbage bags, but what looks even more like a garbage bag? Shiny Trubbish, which is a household standard black trash bag. Clauncher and Clawitzer are blue crustaceans that, when Shiny become standard crustacean orange. It might be basic, but I love a bit of thought put into Shiny designs like that.
The next Shiny Pokémon to be released is actually the aforementioned Trubbish, which will debut in Pokémon GO on April 20th with Sustainability Week.
---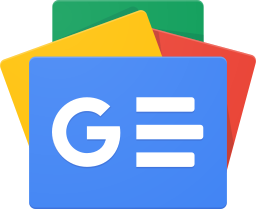 Stay up-to-date and support the site by following Bleeding Cool on Google News today!