Hobby: Journey of a "Gaslands" Newcomer, Part 3
Hey there folks! Last Saturday I wrote about my continued journeys into the world of the game Gaslands, by Osprey Games. This series of articles started just a week before then. Today, I'm seeking to show off the rest of my load-out of cars for the new edition of the game, Gaslands: Refuelled.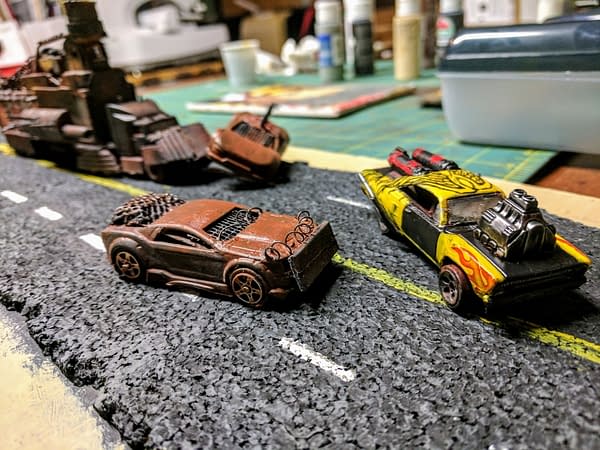 As discussed in prior posts, I am working with a team of cars under the imaginary sponsorship of Verney. Lore-wise, Verney is the only person to escape the clutches of the Warden, a prison-owner who has promised freedom to any prisoner who wins a race in his name and survives. Verney has managed this feat, and again is the only person to have done so in the world of the game.
Mechanically, Verney's cars tend to have an affinity for dropped weapons, meaning first and foremost that cars sponsored by Verney tend to have a huge payload of items like napalm, mines, and smoke droppers. My loadout in specific is heavy on smoke, which acts as a fantastic deterrent to opposing cars. Further, whenever a Verney player's dropped weapon's template is removed from play by an opponent triggering it, the player who dropped the weapon is awarded an "audience vote". This is effectively a currency that allows players to do such things as remove hazard points from friendly cars, add hazard points to enemy cars, or even respawn one of their wrecked cars.
Anyway, my loadout tends to go heavy on smoke droppers, which act as an obstruction from enemy fire first and foremost, and then, if a car enters smoke its crew gets distracted (meaning they can't fire or drop weapons) and the car itself gains a hazard point.
With that, here is what I'm working with for the rest of my car loadout (keeping in mind that a single asterisk denotes weaponry and a double-asterisk denotes a perk from Verney's list thereof):
Queen Of Hearts ('Middleweight Van) = 15
12 Hull
2 Handling / Mx Gear 4 / 3 Build / 3 Crew
** Dead Weight +2
* front-facing flamethrower +6
* left-facing smoke x1 +1
* right-facing smoke x1 +1
=25
The Queen of Hearts is one of my… cleanest cars. I had taken a car from Hot Wheels' "Art Series", namely a 1956 Ford F-100, fashioned to resemble a Queen of Hearts card from a typical poker deck. I needed it to have an edge to it, and so I added a flamethrower to its arsenal. Afterward, instead of priming and painting the entire car, I only primed select parts so that I could keep most of the imagery intact. I also wanted a sort of ferocity and anarchy to the model, so I censored the Queen's eyes on both sides of the van.
Jack of Diamonds (Middleweight Car) = 15
10 Hull
3 Handling / Mx Gear 5 / 2 Build / 2 Crew
** Gyroscope +1
** Mobile Mechanic +3
* front-mounted Heavy Machine Gun +4
* left-facing smoke x1 +1
* right-facing smoke x1 +1
=25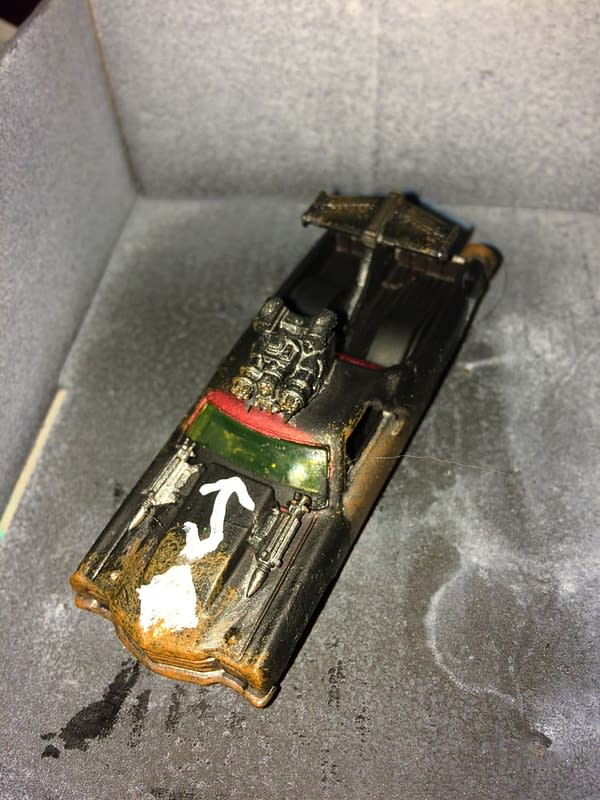 The Jack of Diamonds, my last car to be specifically card-themed, is a Chevrolet El Camino fashioned, similarly, to resemble the Jack of Diamonds. It's arguably a slightly weaker car overall, if only because of its susceptibility to being collided with from the rear. Thematically, I mostly did the same technique I used on the Ace of Spades. I figured it was a good way to make a car look worn but workable, so I tried it out and it feels like the paintjob just works.
I have not gotten a chance to use this car yet, if only because I'm getting over a cold and don't want to afflict my fellow Gaslands players and hobbyists with my ills. However, I did get a chance to play using the Queen of Hearts and the next car I'll be discussing. That discussion, as well as a reasonable recap of the game, will have to wait until next week. Until then, don't get rear-ended and make sure to check your car's tire pressure – it's getting cold out!