id Software Will be Adding Bots to Quake Champions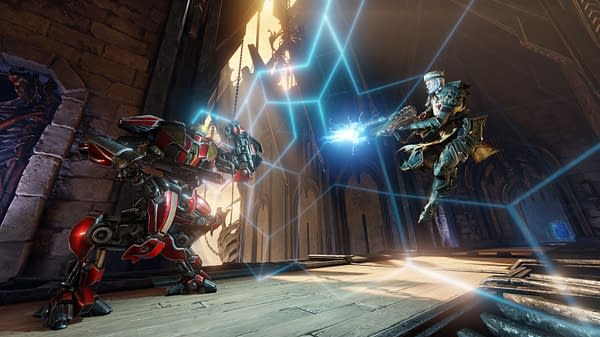 id Software's Community Director, Joshua Boyle and Technical Director, John Dean released a new video discussing the inclusion of bots in their multiplayer machine, Quake Champions.
According to the devs, Quake Champions will soon feature in-game bots, which gamers will be able to use as practice. The bots are designed to help players who are new to Quake Champions and would like to get extra practice in before taking on a match against other players, as well as for those wishing to get better at a particular champion to do so without being slaughtered on the battlefield. But the bots aren't going to be designed just for practice, no, you can also use them to fill slots in during matches.
According to Dean, the bots will be able to mimic the actions of a real player, which includes doing trick jumps and players will be able to scale the level of the bots with relative ease. One important feature that was highlighted in the discussion video is that the bots will avoid powerful weapons, regardless of how high you set the bot's difficulty setting. Which is a bit of a hindrance for using them in matches, but does make perfect sense for the practice functions.
In addition, the bots will be released in two phases with phase one slated for launch "soon." The first phase will feature bots that will play as any of the champions and weapons currently on the roster, however these bots will not be able to use the champion's abilities. They'll also be excluded from certain game modes like deathmatch and team deathmatch.
The second phase will allow the bots to use the champion abilities and expand which game modes they can be utilized in.
While this is a pretty helpful feature, there's certainly going to be drawbacks and backlash. However, AI bots can be pretty powerful tools when used correctly, which might actually spawn some interesting new strategies.
And while you might be hoping for the game to get an offline mode, all Dean mentioned on that was that "there's a lot of really really good stuff coming down the pipe." Which is definitely too vague to be helpful.
You can view the full video below. Quake Champions is currently available now on Early Access via Bethesda.net and Steam.