In Space, Only 426 Men Can Wear Ripley's Sneakers Larry Young writes,
You may know me as the writer of ASTRONAUTS IN TROUBLE (Issue #11 out this Wednesday from Image in discerning comic shops everywhere) but what you may not know is that I collect movie shoes. Love 'em. Weirder, the better. Robin Williams wear a pair of Lowa Corse GTX in that RV movie? It's my daily shoe. Harrison Ford in BLADE RUNNER? Grab a pair of Adidas' referee shoes, the Stan Smith "Official"s. Love Star Lord's boots from GUARDIANS OF THE GALAXY? Well, you can't exactly go into a store and buy his boots but you can get the hard part done because they were gaiters worn over Skechers' Diameter/Garzo loafers. Man, those had to be comfortable.
So, ALIENS fans in general and guys like me in particular went crazy when Reebok announced that for April 26th, ALIENS day (named for the planet LV-426), they were going to release Ripley's shoe. How cool is that? every science fiction fan, shoe collector, and Sigourney Weaver-stalker thought. Finally, a signature shoe which looks futuristic, plays a role in one of the most iconic movie badasses of all time, beloved since 1986 (before that, even if count, you know, her first appearance in ALIEN in 1979, but this is Fox and Reebok marketing, they're on a roll), and made by the company that actually made them for the film. This is like some kind of dream-come-true.
And, surely, since this is 2016, all the marketing errors of similar events in the past have been… well, if not corrected, per se… at least noted and accounted for. Not six months ago, Pepsi boned a perfectly decent "Pepsi Perfect" promotion, offering replica bottles of the drink as seen in BACK TO THE FUTURE 2 to honor its appearance in 2015… "the future" in the BTTF world. Wildly and inexplicably unable to predict demand that literally generations of fans might have for its bottle, Pepsi instead garnered fury and rage instead of the goodwill it sought to promote.
And that's just the most recent example I can think of.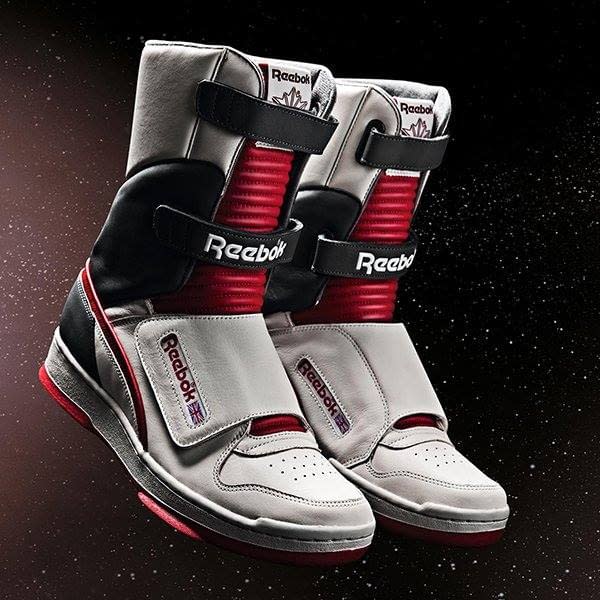 So, with an ersatz "May the Fourth Be With You" campaign stirring up the kids, Fox and reebok promoted their Ripley shoe offer for months. What a perfect storm of marketing goodwill and borrowed interest! Legions of fans from all corners of the globe will obviously throw down for these iconic boots. Not just space enthusiasts like me, not just shoe collectors. Not just movie fans, or folks who felt left out there were no Rey toys. Finally, the most legendary Woman of Action on film gets her just and obvious place atop the most mass market offering of all! What heroes Reebok will be seen as! What an obvious win-win! Fans get something cool by the folks who made it for their beloved film, the next time they need running shoes, they'll think I LOVE YOU REEBOK THANK YOU FOR MY RIPLEY BOOTS and buy more Reeboks, Dads with daughters can buy a pair to suit up their kids like a mythic girl badass, it'll be like Christmas in April. ALIENS day will be a thing forever.
But, oh; wait.
It's a "limited edition." Huh. That wasn't mentioned once in any of the million press releases, fawning odes, and love letters to Reebok I had read leading up to this. But a few weeks ago I put on the calendar "April 26: ALIENS day" to remind me to get to the Reebok site, because I know how these things go. Obviously, after all these other corporations running similar promotions, Reebok won't want to be seen as chumps, and will have plenty of product and some fat pipes to their website installed to meet what is going to be crushing demand at noon Eastern when sales go live. Obviously again, they will have taken into account the obvious aftermarket that they don't see a penny of and obviously a third time, Reebok doesn't want to encourage scalpers who use a dedicated software linked to ultra high-speed proxies, giving normal folks no chance at all.
Oh, wait. That "limited edition" thing means only 426 pairs available? Well, I guess I can… wait; what? That's 426 WORLDWIDE? Um, that means it's… come on. Only 33 pairs available in the United States? Oh, Reebok. You got all that press, stirred up the folks you wanted on your side, and made it impossible for them to give you money. Your site couldn't handle the traffic, and now everyone hates you. You know that's the opposite of what good marketing is supposed to do, right?
But I'm here for you. Great idea, the suitcase packaging, the hologram box with the Weyland-Yutani logo, the extra bits and bobs. That's great; excellent packaging. And so the folks who are paying three thousand dollars on eBay six hours after they "sold out" for a pair of shoes that won't even ship until Friday and are just taking the word of a seller they have a confirmed order from you, well, God bless 'em. But just like AMC theaters announced they would allow texting and social media exploded negatively and AMC IMMEDIATELY announced they listen to their customers and nixed the idea… maybe you guys should tool back up and offer a pair of shoes in a regular box so the three thousand dollar guys feel like they've got value, and you don't alienate (heh heh) a bunch of folks with cash in hand who just want the shoes to wear around as their regular kicks. You know, to stomp bugs in their bugstompers.
And, really? Do I have to say it? Offer some in women's sizes. That oversight is ridiculous.