Powerpuff Girls LEGO Sets Hit Stores This Summer
Powerpuff Girls LEGO sets hit stores this summer. Two sets will be offered, both in the mid-range price for LEGO. Bubbles' Playground Showdown will be 144 bricks and cost $19.99, while the Mojo Jojo Strikes set will be 228 bricks and costs $29.99. Check them both out below!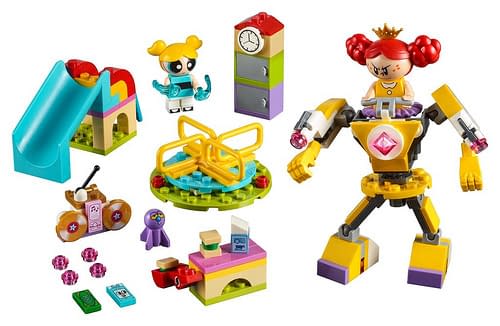 Help the Powerpuff Girls™ defend the Townsville playground from Princess Morbucks in this fun LEGO® The Powerpuff Girls 41287 Bubbles' Playground Showdown! Climb the ladder and zoom down the rainbow slide before you race to the lunch bench and load up the catapult. Take a spin on the merry-go-round with Bubbles and then tuck Octi into one of the lockers for safety. Put a cell phone into the boombox for some music while you play, but be careful; Princess Morbucks has climbed into her flexible mech suit and is bending down to take aim at you! Who will become leader of the playground?
• Includes 2 minifigures: Bubbles and Princess Morbucks, plus an Octi figure.
• Features a fully posable, flexible mech suit with removable power gloves, 2 stud shooters and space for a minifigure.
• This fun childrens toy also includes a slide with ladder, spinning merry-go-round with space for 4 minifigures, plus a lunch bench with catapult and lockers with 2 opening doors.
• Load a sandwich or milk carton element into the catapult and push down the front to launch it at Princess Morbucks.
• Push the lever to fire Bubbles' aura power shooters at Princess Morbucks.
• Flick the lever on the mech suit's stud shooters to launch studs at Bubbles or Octi.
• Sit Princess Morbucks, Bubbles and Octi on the merry-go-round and go for a spin!
• Accessory elements include 2 cell phones, money bill, Bubbles' aura power shooters, Princess Morbucks' power gloves, 2 sandwiches and a milk carton, plus a buildable boombox.
• Play out fun adventures from The Powerpuff Girls™ TV series.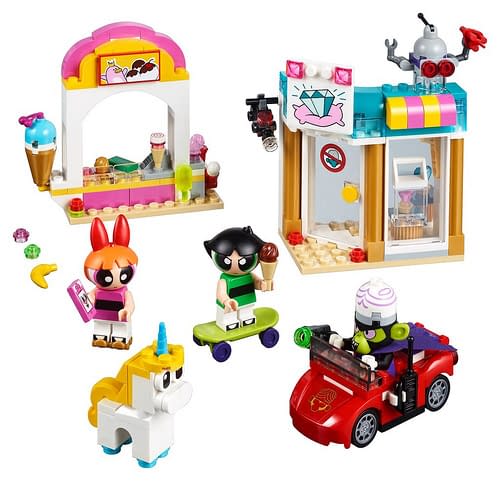 Alert the Powerpuff Girls™, Mojo Jojo is trying to steal Townsville's diamonds in this thrilling LEGO® The Powerpuff Girls 41288 Mojo Jojo Strikes set! Grab one of the tasty ice creams and have a lick before you launch it at Mojo Jojo and his robot. Rotate the camera on the jewelry store and catch them breaking down the wall and stealing the diamonds! Call for backup while you chase after them in their getaway car with Buttercup and Blossom, while Donny the Unicorn takes care of the ice cream stand. Can you catch them before they get away with the jewels?
• Includes 3 minifigures: Blossom, Buttercup and Mojo Jojo, plus Donny the Unicorn and robot figures.
• This cool toy for kids features an ice cream stand with a counter and ice cream launcher, plus a jewelry store with an opening door, rotating camera and a wall to shoot off with the getaway car's stud shooter.
• Getaway car features an aimable stud shooter, space for the robot or stolen jewels and a handle on the back for one of the Powerpuff Girls™ to hang on.
• Push the button to launch ice cream scoops and toppings at Mojo Jojo and his robot.
• Push the lever to break out the wall of the Townsville jewelry shop.
• Throw the banana out of the car or use the car's stud shooter to trip up Blossom and Buttercup.
• Accessory elements include a remote control, 2 ice cream cones, 6 ice cream toppings, skateboard, pair of roller skates, cell phone, 2 diamond elements, dynamite and a banana.
• Play out fun adventures from The Powerpuff Girls™ TV series.