Letting Corsair Guide My Audio: We Review Their HS60 Surround Gaming Headset
Corsair recently released a brand new gaming headset by the name of the HS60, a follow-up model to the HS50 with the added bonus of featuring 7.1 surround sound audio as part of its features. We managed to convince the company to send us a pair to check out and after several hours of intense gaming, playing music, and yelling salty phrases over Dischord, we're ready to review them.
The first thing to take note of this pair is that it feels just a hair lighter than the HS50 and seems to have a slightly slimmer design. Not by much, but enough to where we noticed the difference when handling them. Unlike a lot of other models on the market, this set uses more metal than plastic in the construction to assure the durability can withstand longer than a plastic set that might snap under pressure (or being thrown). The ear cups have a wider design all the way around so that your ears fit comfortably inside and have some room to move around, which was a lovely feature to discover as other brands tend to be a bit more sung. The memory foam around the ears and the padding across the head bar also made them comfortable to wear. The only downside we ran into was that the earpieces don't twist to rest on your shoulders like many others on the market do.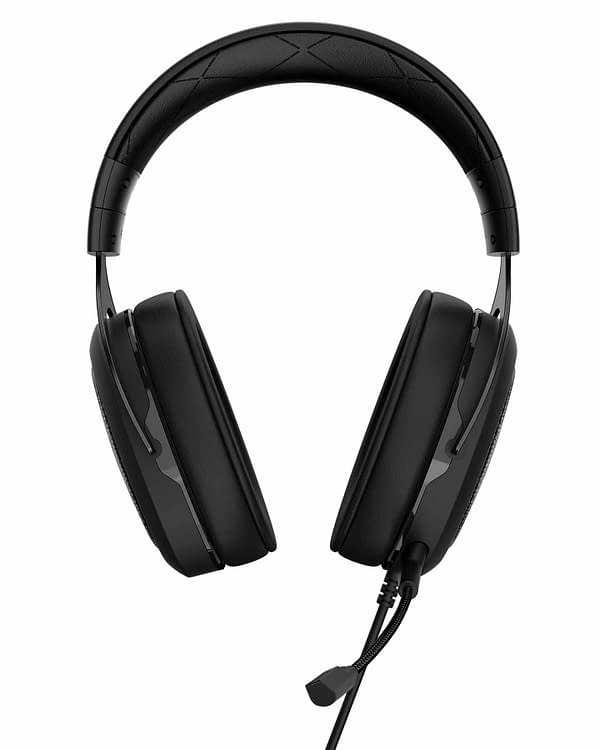 The audio comes in crystal clear, giving me great access to the highs when I need them while also finding a balance between the bass and background noises. The headset itself has a 3.5mm jack, which works well in any game controller audio port, top port on a Switch when handheld, PC audio, speakers, and other audio devices. However, if you want to take advantage of that 7.1 surround sound, you'll need to use the USB adaptor (seen below). While this works on PC wonderfully and shows off the true audio capabilities, we wanted to experience it with a console as well. Unfortunately, the USB only worked with an Xbox One X when we plugged in the USB adapter, while the PS4 and Nintendo Switch couldn't detect the device. We also tried Jerry-rigging it to an Android and iOS device using a USB to a micro USB port and managed to get it working that way as well with apps and music on the Android device but not the iOS. So it seems the 7.1 surround sound works with Windows and Android units.
As far as the gaming side of things goes, you have a detachable microphone with a 3.5mm jack on the end that plugs into a specific port on the left side. On the other side, you have a mute button for the microphone only that you push in and out, as well as a volume control dial. This is a pretty decent placement that's easy to access while still holding a controller and not having to think about it, but we're curious why Corsair decided to make the mic detachable instead of retractable. It's an interesting choice for people who wish to use the headset as just a pair of headphones, but if you're only gaming with them, it feels unnecessary. The mix of gaming audio and microphone audio is great, but you do need to rely on using the audio options to whatever game you're playing to manage the mix, or downloading Corsair's Utility Engine to manage and fine-tune your options. If you don't care about any of that, it works fine as a plug-and-play setup.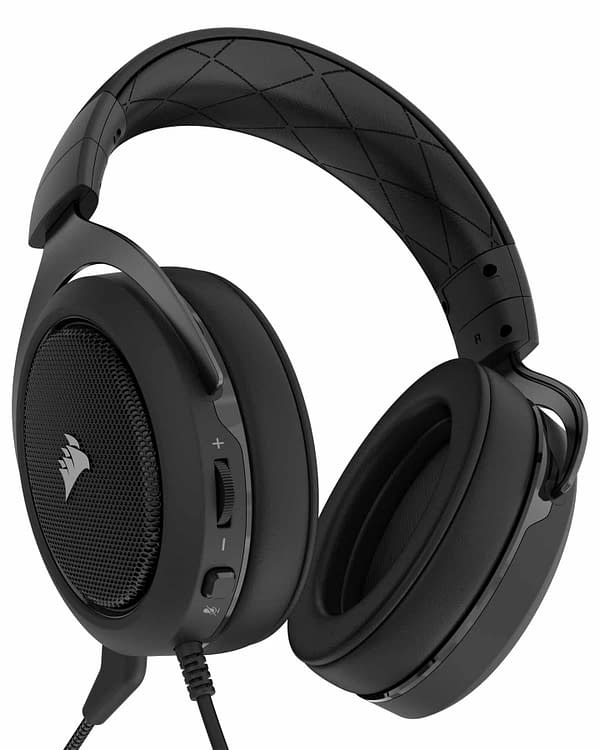 Overall, I had fun using the Corsair HS60 gaming headset. I got a good mix of audio and some superb surround sound, on a headset that didn't feel heavy or make me feel hot as I wore them. There are a couple odds and ends I wish I could change, such as the microphone and the way the ears rest, but those are more aesthetics that are particular to each gamer and not necessary to be the norm in every headset. At $70, it also serves as one of the cheaper options on the market, which you can get with either black or white stitching and highlights. This makes for an amazing option if you want quality but don't want to pay triple digits for it.