Logitech's Driving Force G920 Wheel, Pedals, and Shifter Are Good But not Real Enough
What you can see above is my rather jury-rigged setup for the Logitech Driving Force kit. Logitech were kind enough to send me the Driving Force G920 racing wheel with pedals, and the separate Driving Force gear shift. The whole kit is designed to be used with the Xbox One or PC and a Playseat racing chair. Since I don't own a racing chair, I had to clamp the wheel and shifter to a small side-table I use for a laptop stand, and try to feebly keep the pedals in a vaguely comfortable position despite them not being quite grounded enough.
However, before I got this far, I decided to do a complete inspection of the components themselves.
The wheel itself was rather well-made. It's got a sturdy metal frame with some nice "vegan" leather wrapped around the wheel itself. Underneath the wheel is the motor and the main hub for the mechanics. It includes a port for the power cable, gear shift, and pedal set all on the under side which can be conveniently looped to keep excess wire from getting tangled. I needed to pull the whole thing a decent space away from my Xbox, so I decided to forgo that to streamlining to give myself some extra inches. Which, I ended up needing. The cables themselves are only a few feet long, meaning you'll only get about a yard away from your console at the farthest.
The wheel is a mechanical racing wheel, meaning it has a solid motor that keeps track of the number of revolutions, and provides feedback and resistance based on your in-game racing. Which is pretty neat.
The pedals themselves connected in to the wheel hub pretty painlessly. They had a nice "carpet latch" function to really grip into the carpet to keep them from sliding around on you. Which was fabulous, except that I had to slide mine on top of some metal bars which made that function all but useless. The pedals were pretty nice grade steel with rubber grips like you'll see in a top-line sportscar, just with less of a price-tag.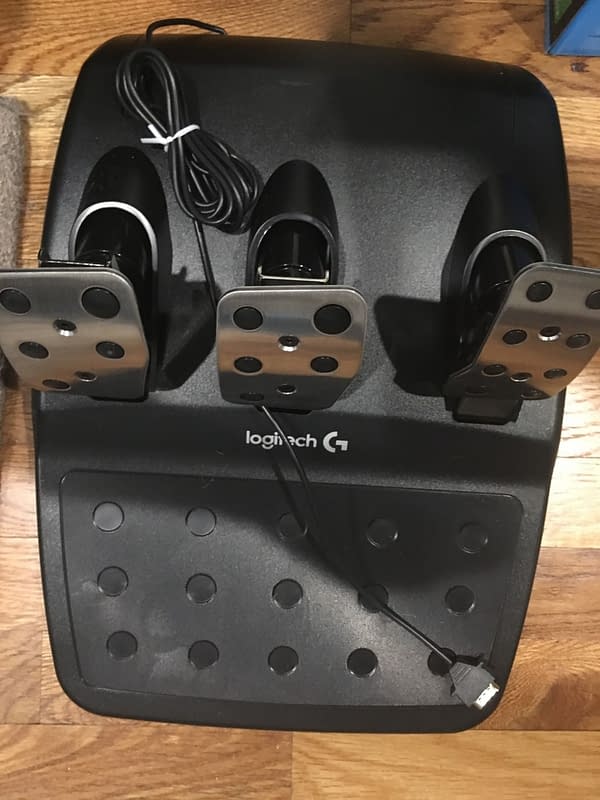 The break had a very heavy resistance to it, which worked out perfectly. Meanwhile, the clutch was a bit, well, smooth. There wasn't much of a clutch window so you pretty much had to just know "okay I pull back and around here I think I step on the gas" to get through shifting properly (assuming you went full manual on the shifting).
Which brings me to the gear box.
The shifter had a nice 7 gate dogleg pattern, except that the gates themselves were pretty shallow. It was incredibly easy to shift from first all the way into fifth, which would be gloriously terrible on a real transmission. Luckily, this is just a gaming accessory. Because the actual shifting component of the shifter is so damn small, there isn't much space between gears, and that is the exact opposite of what you want in a car. You don't want to be accidentally shifting into the wrong gear, at best you'll get a power shift, at worst, you've stripped your transmission. There's also zero resistance between gears, meaning that shifting comes far too easily.
Once I got the whole thing pieced together, I booted up Forza and decided to hit the tracks, which was something of a trial by fire. The first run through I figured I'd got automatic, keep things simple. The wheel's mechanical feedback does not play at all the way it should when you're in control of most of Forza's cars. It's a mechanical wheel, meaning its designed for mechanical steering which is pretty much the worst way to steer a car. There's no assistance whatsoever, and you've only got the power vested in your arms by your own workout routine to try and keep a several ton piece of over-engineered machinery with too much horsepower on the road. While you can get used to that, the problem lies in the wheel's resistance and sensitivity. You get about 20 degrees of play in the wheel before it really starts to react to you. I had a whole lot of fun wobbling the wheel in the "safe" zone of no-resistance on a few straightaways with very, very little of my steering reflected in the car's movement. I should be able to rapidly tilt the wheel right and left at 120 mph and get a slight wobble. I should be banging into the walls.
I had to get my roommate to come over and test it out with me, because, well. Me driving in video games is a hit or miss kind of deal, and I wanted to check to see if the wheel resistance troubles I had were a result of me being a terrible driver.Let's just say our crashes were well worth the lack of sleep we got testing this thing out.
I also had a couple of instances of having the controller bug the hell out and, without me touching it at all, assume I was trying to go only in reverse. When I shut down the wheel to try the good old "reboot and pray" fix, I realized that you can't easily turn the Driving Force G920 back on once the Xbox or PC is already booted. The wheel has to boot with the system or it won't connect. That booting process involves some mechanized wheel turning, which makes the whole rig look pretty darn possessed.
If you can get around the wonky mechanical steering and the too-small, too-smooth shifter, it's actually a pretty nice piece of kit. Provided you also get the playseat or have your own racing chair. If you don't, all of that gear will set you back $858.98 USD if you get a lower-tier racing chair. If you go on the high end, well a high end racing seat can cost you up to $2,500 USD. That's a couple grand of kit just to feel like you're in a real sportscar in the comfort of your own home. And for all the technology behind Forza 7, Project Cars 2, and GT Sport, those games are designed to be played with a controller. Which means, no matter what, you'll drive better with the standard controller than you will with a wheel.
You honestly might as well find an old Daytona arcade cabinet and mod it to run off a PC. Or mod the hell out of an actual car to turn it into your controller. You'll get a much more realistic experience that way.