Magic: The Gathering – Innistrad's Six Most Dread-Inducing Cards
Dread is one helluva tough feeling to pin down a definition for. Foreboding, anxiety, fear – dread can encompass all of that. It must be even tougher to draw, paint, or otherwise illustrate dread. As such, Magic: The Gathering's various artists deserve massive kudos for their work on the cards set on the plane of existence known as Innistrad. We took a look at all the sets that take place on Innistrad – Innistrad proper, Dark Ascension, Avacyn Restored, Shadows Over Innistrad, Eldritch Moon, and Midnight Hunt, and found what we believe to be the most dread-inducing card, speaking aesthetically, in each set. Previously, we went over the creepiest, most haunting, and most poignant cards in these sets, and this one will be of a similar ilk, but nonetheless may re-acquaint you with some of the hidden gems of the setting. Let's dive in!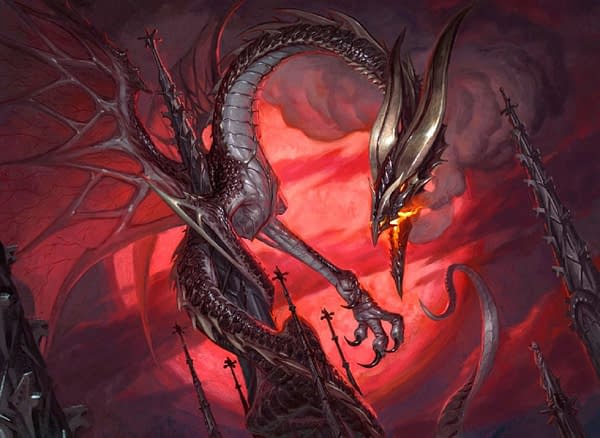 "Dread", according to the Merriam-Webster online dictionary, is defined as such:
1

a

: to fear greatly
("a

dreaded

disease")

archaic

: to regard with awe

2

: to feel extreme reluctance to meet or face

dread

the future

dreaded

telling him the truth
("dread the thought of speaking in public

")
Note that we will be utilizing both of these meanings in this article, but will put special emphasis on the second definition, as this ties in well with the idea of foreboding, which was the original intent of this piece. Without further ado, here are our picks!
1. Innistrad's Balefire Dragon
Balefire Dragon was Wizards of the Coast's effort to showcase how they would introduce a more typical fantasy creature into a world largely based upon tropes that don't quite cover those creatures. On September 9th, 2011, Magic artist and art director Jeremy Jarvis touched upon many players' sensibilities with the preview of this card.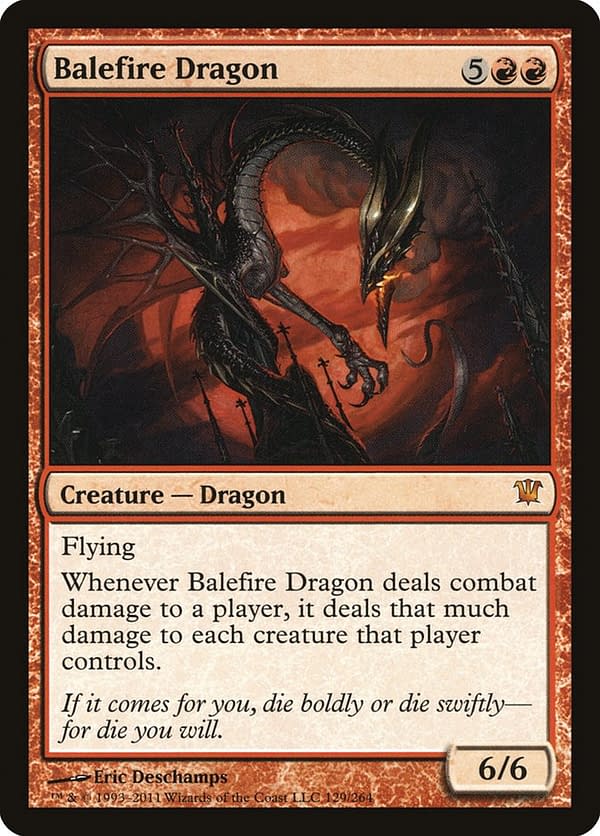 The card's art, illustrated by Eric Deschamps, shows a dragon with stained-glass wings perched upon the steepled of an Avacynian cathedral. The fact that it is vaguely far from the viewer serves to give a sense of slight relief, but only such, as the viewer is probably aware of the speed of a dragon in flight, and the danger that a dragon can certainly pose from afar besides. This card's art inspired the basis for this article series, to be frank, as it serves to convey the idea of a feeling such as dread so well.
2. Dark Ascension's Lost in the Woods
Lost in the Woods is a neat pick here because while it doesn't convey the viewer's own unease and dread, per se, it conveys the dread of a figure in the art. If you've ever been lost in an unfamiliar place, you know that feeling.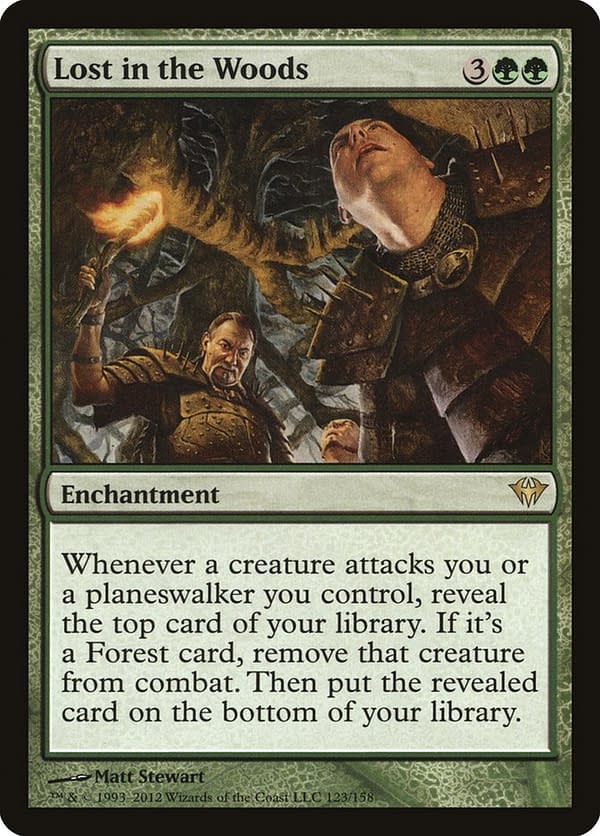 Illustrated by Matt Stewart, this card serves to tie its mechanics with its aesthetics quite well too, for the idea of getting stuck in the midst of combat when attacking feels right at home with its emotional conveyance.
3. Avacyn Restored's Descent Into Madness
Descent Into Madness is a card that we have been struggling to make work in our Commander decks for some time now, but the reason for the long-time struggle is that the art is superb. This is a mental picture, in that it shows the effects of madness upon… someone. As the figures go down the staircase to their doom, they also could easily avoid it, and yet… Well, they don't.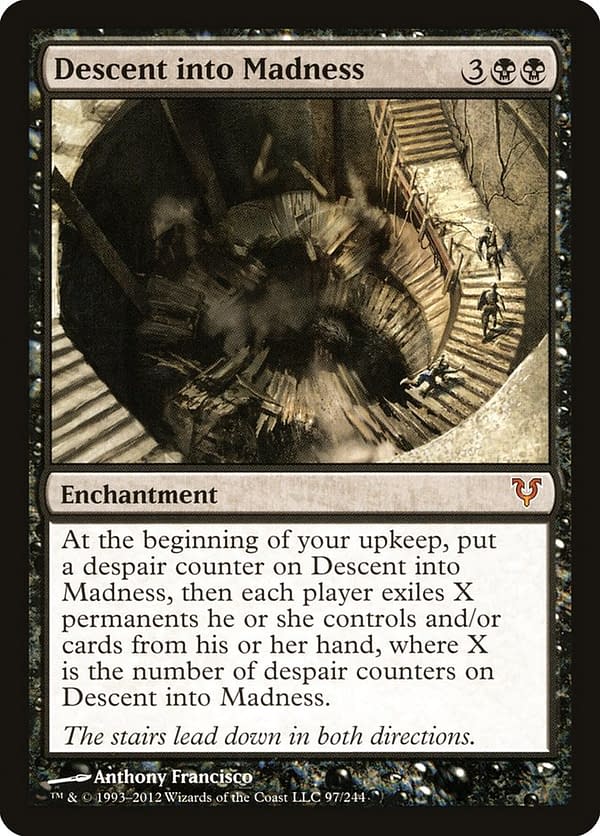 Illustrated by Anthony Francisco, the artist's latest illustration for Magic seems to be the promotional art for Acquire. Most of his work stems from the time between Shards of Alara and then. It would be great to see more of his work grace the front faces of Magic: the Gathering cards in the future.
4. Shadows Over Innistrad's Always Watching
Always Watching, a card from Shadows Over Innistrad, has always given us the creeps in a way that aligns itself well with the subject matter of this article. The idea of half-maddened angels looking down upon you from on high is enough to strike dread into anyone foolish enough to be below.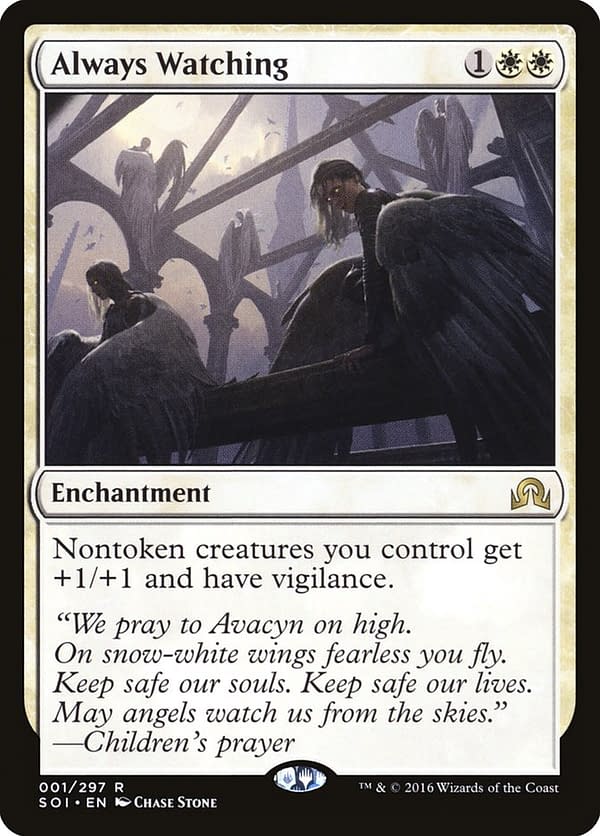 This card was illustrated by Chase Stone, who has done a fair amount of cards' artwork since then. This piece is a textbook example of dread-inducing, and we are here for it!
5. Eldritch Moon's Hanweir, the Writhing Township
This card is so dreadfully scary that it had to be printed on the backs of two other cards. The mere concept of Hanweir, the Writhing Township brings a shiver to our collective minds, as a town and its people come together in the absolute worst way and send us off to our nightmares.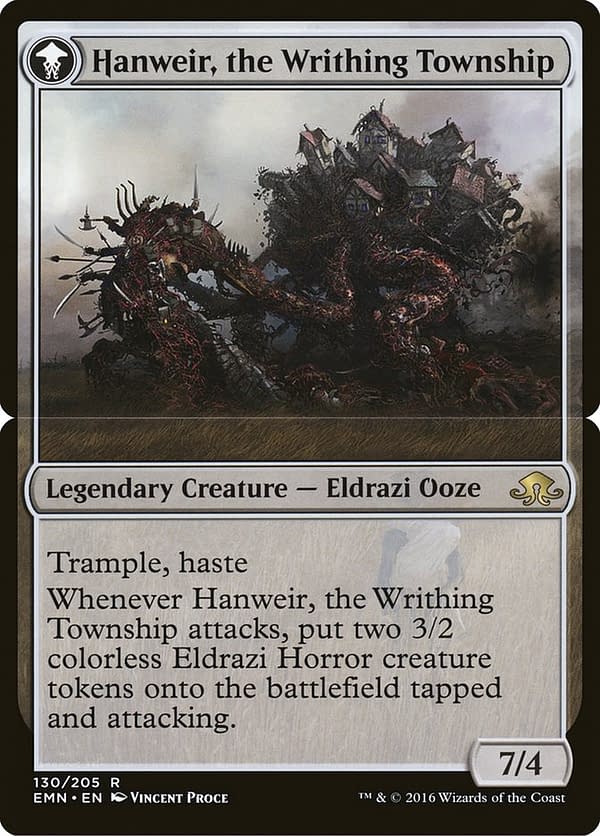 Vincent Proce, whose master-class in dread also includes cards like Kroxa, Titan of Death's Hunger and Abomination of Llanowar, pulled no punches when he painted up Hanweir. Inspired by a story written for the occasion (or was the story written after Proce's artwork?), the Writhing Township is a fantastic and horrifyingly dreadful card to behold, both in collections and on the battlefield.
6. Midnight Hunt's Wake to Slaughter
This last entry is a bit of a black sheep. Wake to Slaughter is certainly an exercise in dread nonetheless, and whatever graveyard the card's art is set in, we don't want to be anywhere near it.
With art by Chris Cold, a relative newcomer with cards dating back only as far as Kaldheim, this piece is spine-tingling. The caskets give us the feeling that they'll open at any time, and we sure as heck don't want to be there to find out when that time will be. We hope that Cold continues to give Magic: The Gathering more prime artwork.
What do you think about our picks for dread-inducing Magic: The Gathering cards from Innistrad? Are there any we may have missed? Let us know your own opinions in the comments below!