"Marvel Villainous: Infinite Power" Unveiled!
Ravensburger, renowned makers of many different jigsaw puzzles and board games, has released a new game in their Villainous line.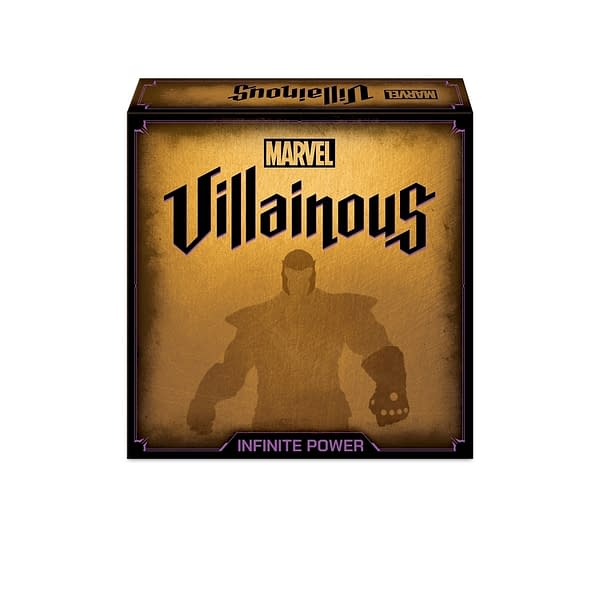 Entitled Marvel Villainous, Infinite Power, it follows in the footsteps of various Villainous games surrounding the villains of Disney's canon.
From the press release by Ravensburger:
Seattle, Wash., Feb. 19, 2020 – Ravensburger, the acclaimed maker of high-quality board game, puzzles and toys, today announced that its highly popular Villainous game will debut a new franchise based in the Marvel Comic Universe. Marvel Villainous: Infinite Power will launch in August 2020 and feature five of Marvel's most popular – and evil – villains.

Marvel Villainous: Infinite Power will unleash all-new game mechanics, allowing players to delight in accomplishing new dastardly deeds in order to fulfill their dark destinies. Players will be able to take on the mantle of five Marvel malefactors, including cover star Thanos, Hela and Ultron. The remaining two villains will be announced in the coming months.

"We are thrilled to introduce fans of the Marvel Universe to the Villainous experience," said Florian Baldenhofer, Executive Vice President of Ravensburger North America. "Marvel Villainous: Infinite Power continues our legacy of innovative and engaging entertainment that will appeal to both passionate fans and casual gamers."

Ravensburger first captivated the tabletop community in 2018 with Disney Villainous: The Worst Takes It All. Fans have since become obsessed with Disney Villainous' devilishly intriguing strategy games, which have sold more than 800,000 copies worldwide. Praised for its "surprisingly sophisticated" play mechanics, the game garnered the Toy Association's prestigious 2019 Toy of the Year Award. Its expandalone sequel, Disney Villainous: Evil Comes Prepared, is currently a Finalist for the upcoming 2020 Toy of the Year Award.
This looks super exciting, and I'm especially interested in finding out about the last two unannounced villains! Could one be Galactus? Doctor Doom? Any number of Spider-Man villains? We shall find out in due time!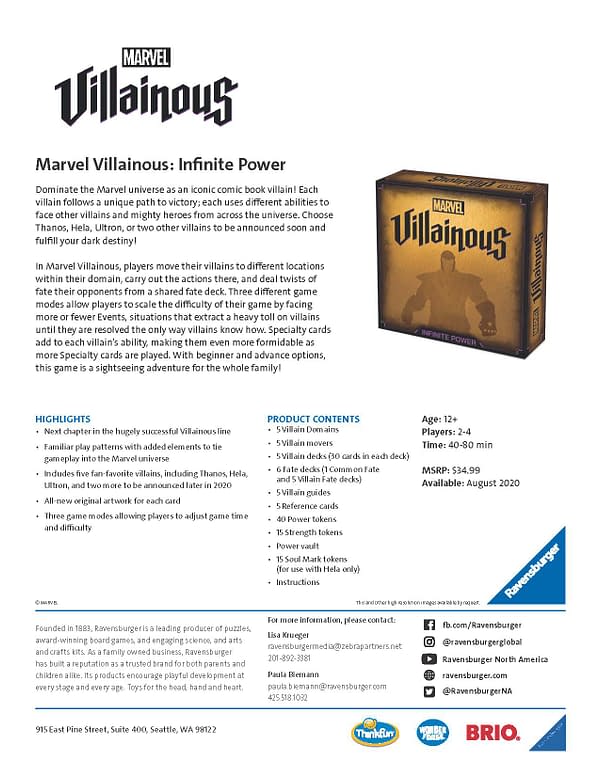 Are you excited about this game? Let us know what you think!