"Marvel's Spider-Man" Releases A New Trailer Showing Off The Suits
One of last year's most popular games has a new trailer out as Insomniac Games are showing off all of the suits you can get in Marvel's Spider-Man. The video doesn't reveal anything new, it's basically just a look at Spider-Man in all his flashy PS4 glory in all the suits you can get. PlayStation Blog even did a write-up to show off the video, because, of course, they did, it's their game. Here's a few of the comments on the suits from that post before you check out the trailer.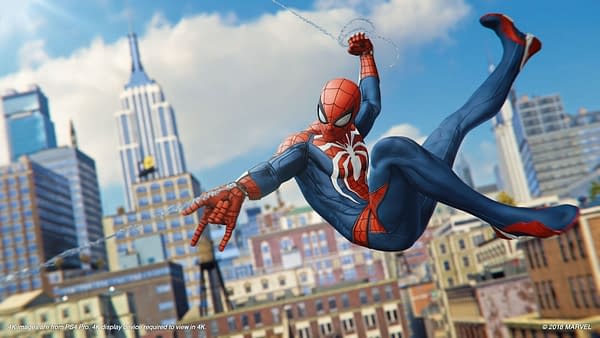 Wrestler Suit

First Appearance: Ultimate Spider-Man #3 (2000)
Marco Villalpando: This was the result of combining visual elements of Peter's first outfits from across the entire run of comics and the addition of a little Lucha Libre influence from my upbringing. It also presented a great opportunity to include the classic web-shooters from the pages of Amazing Fantasy 15.

Spider-Punk Suit

First Appearance: Amazing Spider-Man Vol. 3 #10 (2014)
Gavin Goulden: Made popular in the Spider-Verse story line, we wanted to show what the Punk design could look like in our game. Referencing common elements of the punk movement – and even current fashion trends of that genre – we used worn denim, chrome spikes, and more DIY elements in the fabric itself.

Undies

First Appearance: Marvel's Spider-Man, PlayStation 4 (2018)
Gavin Goulden: This is a reference to the various times Pete has been caught with his pants down and is also our take on the debate of what he wears under the suit. This suit is great as it makes you question what was really going on during the Scorpion sequence, gives more weight to that mission wrapping up, and references our opening scene with Pete wearing the same Underoos.

Vintage Comic Book Suit

First Appearance: Marvel's Spider-Man, PlayStation 4 (2018)
J Tuason, Shader Technical Artist: Working on a shader that emulated vintage comics was definitely a huge challenge. I've always loved games that try to emulate 2D art styles and it was exciting having the opportunity to tackle a comic shader for such an iconic character. I'm really proud of our work on the suit and it was flattering seeing how many people thought that the suit was photoshopped into screenshots.