Microsoft released details today about their next exclusive Xbox One controller as XO19 will be getting its own special design at the event. The company revealed the special design today, designed with help from DPM Studios who gave it this green and gray aquabrush appearance for the camouflage look. We have more info on it for you here along with the official trailer showing it off.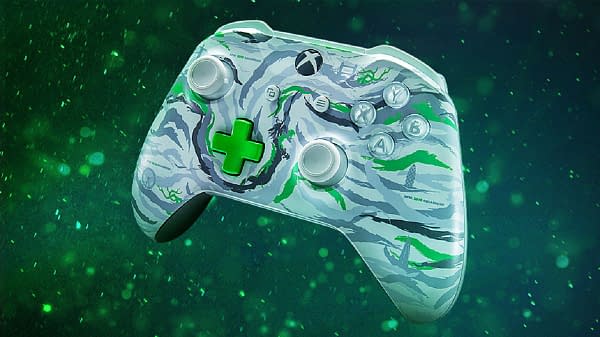 As our most limited-run Xbox Wireless Controller to date, the controller will drop on November 14 at 2 p.m. PST/10 p.m. BST – directly after the X019 episode of Inside Xbox – for $99.99 USD. The controller will be available from Microsoft Store online in the U.S., Canada, and the following European countries: Austria, Belgium, Bulgaria, Croatia, Cyprus, Czech Republic, Denmark, Estonia, Finland, France, Germany, Ireland, Italy, Latvia, Lichenstein, Lithuania, Luxembourg, Netherlands, Norway, Poland, Portugal, Romania, Slovakia, Slovenia, Spain, Sweden, Switzerland, and the United Kingdom. For those of you joining us in London, the controller will also be available in very limited quantities each day of X019 at the Copper Box Arena and at the flagship Microsoft Store in London on November 14.

As with all Xbox Wireless Controllers, the Xbox Wireless Controller – DPM X019 Exclusive is compatible with all Xbox One consoles and includes fan-favorite features such as a 3.5mm stereo headset jack, rubberized diamond grip, and Bluetooth technology for playing your favorite games across multiple devices. You can also take advantage of the custom button-mapping feature through the Xbox Accessories app to customize your controller just the way you like it.
Enjoyed this article? Share it!