Minecraft Dungeons has barely been out for almost a week and already we're hearing that Mojang has some DLC content on the way. The game is already receiving some popular reviews, which we'll have ours shortly, with people wondering how much more is on the way. The company revealed on their blog that they have two DLC packs coming in 2020, starting with Jungle Awakens, and then later you'll see Creeping Winter. Here's a snippet from the blog.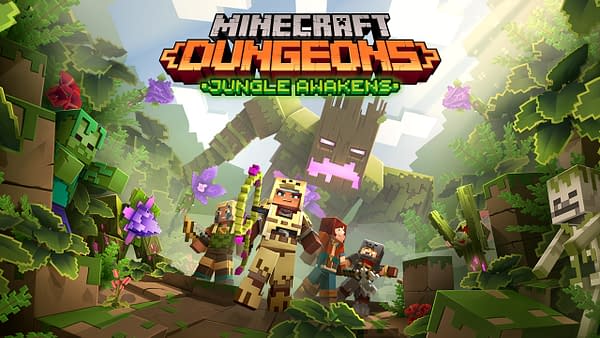 You probably already know that we're currently working on new content for Minecraft Dungeons, especially if you've purchased the Hero Edition. However, what you might not know is that the first of the two planned DLCs – Jungle Awakens – is coming in July! In this adventure, you'll enter a distant, dangerous jungle to fight a mysterious power in three new missions. To defeat the terrors hidden among the vines, you'll have new weapons, armor, and artifacts at your disposal. You'll get to meet the Leapleaf, Jungle Zombie, Poison Quill Vine, and others! I've heard that their social skills are lacking though, so gear up. Once you've had enough of the jungle heat, you'll explore some frozen peaks in Creeping Winter! This second addition to Minecraft Dungeons will be coming later this year, so keep an eye on this blog and our socials for future sneak peeks!
What exactly is in the second DLC we don't really know yet, but if the main game is any indication, you'll probably see a lot more of the snow-related content. Or perhaps some new additions you've never seen in Minecraft normally that will make their presence known in this version. Either way, it sounds like this RPG title is becoming an amazing get for anyone who loves the brand. The Jungle Awakens DLC will be coming to the game in July.
Enjoyed this article? Share it!