Netmarble has announced a brand new live event for mobile MMORPG Lineage II: Revolution called War in Wonderland.
The event will give the Heroes of Aden an all-new threat to face and conquer as the mad world of the Alice in Wonderland comes to the game. Thanks to the mistake of Varot the curious cat, players can step into Wonderland and join forces with Alice on a quest to save her world.
Inspired by the classic Alice in Wonderland novel, Lineage II: Revolution's War in Wonderland update adds a special Temporal Rift Dungeon – Alice's Dream – that lets players enter the world of Wonderland at Level 10 where they will encounter weird animals, card soldiers, and the Cheshire Cat as the final boss. An all-new Adena Vault – Queen's Treasure Chest – will be available for entry at Level 35 where expert players can conquer Card captains and soldiers for rewards.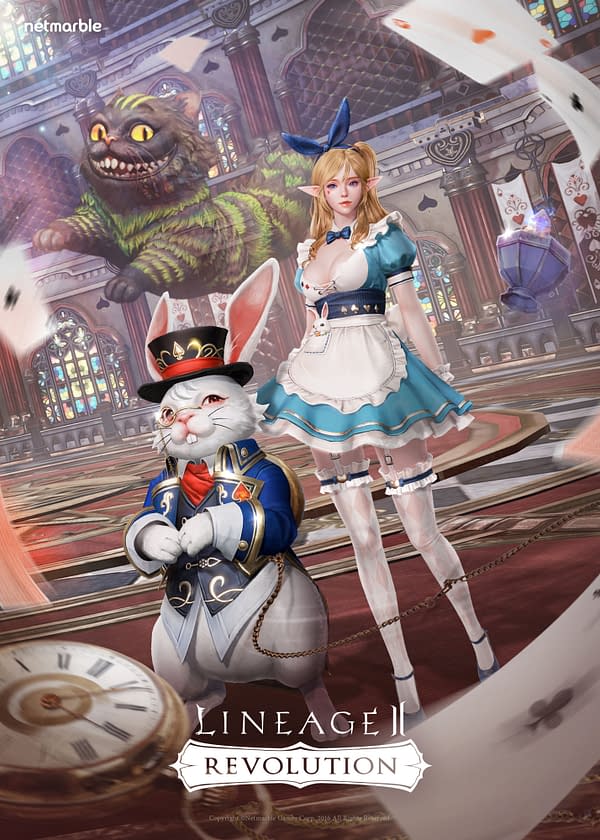 Other updates to Lineage II Revolution's War in Wonderland event include:
Alice in Wonderland-Themed Items – Introduced in this update are Alice-themed items for players to collect and enjoy. These include new costumes, an all-new Mount and Agathion, and 3D Wonderland Wardrobe Tickets that allow players to try on all event costumes for a limited time.
Cloak and Costume Substats – Starting today, cloak and costume stats will be categorized into 'collection bonus' and 'equipped effect' items. 'Collection Bonus' items apply its bonus regardless of the player's loadout while 'Equipped Effect' items only activate when players equip them. Once all War in Wonderland costumes are collected, players can expect 30,000 CP from these items.
Event Field Monsters & World Bosses – Later this month, monsters inspired the rabbits in Alice in Wonderland, will appear in game and a new Event World Boss, Elnagandr, will be added to the last half. These monsters drop special items when defeated.
Lineage II: Revolution is available now on iOS and Android.
Enjoyed this article? Share it!