New Wave Toys has a new arcade cabinet on the way as they are releasing a Dragon's Lair x RepliCade 1/6-scale arcade cabinet. This is a pretty awesome replica of what is essentially a 12" tall replica of Don Bluth's original 1983 cabinet. Whether you're an old-school gamer who wasted tons of quarters on this in the arcades, or if you're new to the game and only found out about it through the second season of Stranger Things, this is one of the most iconic arcade titles of all time. It was one of the first to use animation cutscenes as part of the experience, which were created by Bluth who had worked on films such as Pete's Dragon, An American Tail, The Land Before Time, and other animation classics. Here's a list of all the things that come with this cabinet.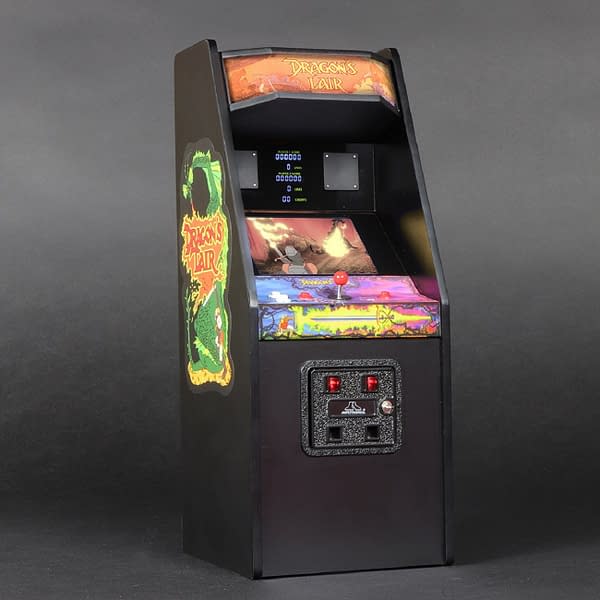 Plays the original Dragon's Lair arcade game running on Daphne Laserdisc Emulator.
Fully functional secondary scoreboard displays player's scores, lives, and credits.
Traditional 4:3 aspect ratio on a gorgeous 4.2-inch screen.
Owner/Operator menu featuring dip switch settings and cabinet controls.
Miniaturized 1/6-scale control panel featuring a 8-way joystick and authentic action buttons.
Cabinet constructed from premium materials: wood, metal, plastic, and love.
Diecast metal coin door with storage compartment.
Illuminated marquee and LED cabinet accents.
Signature amplified multi-speaker audio reproduction with volume control.
High-resolution cabinet art reproduction on quality 3M vinyl overlays.
Built-in lithium-ion rechargeable battery.
Mini LaserDisc player 1/6-scale replica with rear cab storage drawer.
The cabinet itself is on sale for $120 after having a successful Kickstarter campaign to get the thing made. If you're into the classic arcade games, this one is a must-own as it will take you back to the glory days of making split decisions that your entire life (and your wallet) depended on. The cabinets will be made available in August 2020.
Enjoyed this article? Share it!