Nexon has got a brand new MMORPG on the way for mobile as iOS and Andriod players will be able to get in on V4. The company has been teasing the game for a minute since 2019 but we haven't seen much of anything as it's been in development with a lot of hush-hush happening about the project. But we now have a few little details about the game, which are listed below, and we know you can sign up for pre-registration starting on June 25th. We also know the game will be playable in all regions at launch sometime in the latter half of 2020, so none of the region testing stuff will be taking place. No word yet on whether there will be a beta to test out all of the kinks or if the game will just be ready to go in a few months. Beyond that, everything else about the game is being kept shrouded in mystery for the time being. We'll see what Nexon has to deliver after having a successful run with AxE: Alliance Vs Empire over the past few years.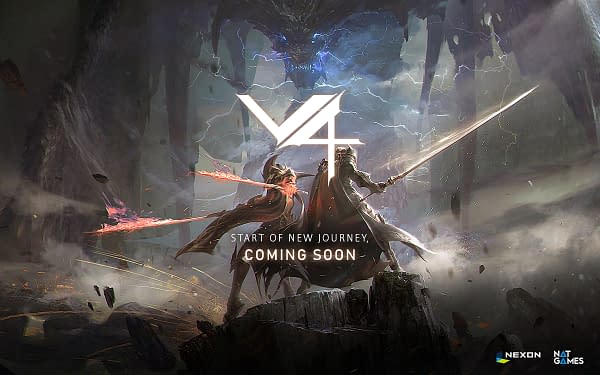 Groundbreaking Visuals – V4's stunning open world boasts groundbreaking high-end graphics, implemented through Unreal Engine 4.
Unprecedented Cross-Play – Players can utilize the six character-class structure to team up or go head to head with challengers around the world across both mobile and PC platforms.
Never-Ending Fun – V4's winning gameplay includes limitless progression, teamwork, and cooperation in the inter-server region. and cooperative competition between guilds are a regular occurrence.
Epic Teams – Players can enlist in teams for both party play and co-play between guilds from other servers for massive amounts of cooperative competition.
Boss Battles – More than one hundred players at a time can experience epic field boss battles, all in one location. Rare and ancient relics are awarded to the victors.
Enjoyed this article? Share it!